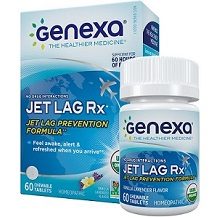 One of the dreaded side-effects of traveling is the irritating sleep disorder that comes from crossing time zones. This condition is known as jet lag. Other symptoms of jet lag include headaches, indigestion, nausea and other gastrointestinal disturbances. Jet lag is caused by the body's own biological clock (circadian rhythm) not matching with the light and dark signals of the new time zone. Genexa Jet Lag Rx is a supplement containing all natural ingredients that are designed to combat the symptoms of jet lag.
Ingredients
Arnica montana
Cinchona officinalis
Cocculus indicus
Coffea cruda
Tabacum
All of the ingredients present are natural extracts from plants. Arnica montana has an anti-contraction effect on the muscles of the body. This helps a person to relax and feel less tense. This makes it easier for them to fall asleep. Cinchona officinalis contains a variety of plant chemicals called alkaloids. These alkaloids are mostly used in the treatment of malaria because they have anti fever and anti-inflammatory properties. However, we could find no evidence to support that it reduces mood changes and fatigue as the manufacturer claims. Likewise, scientific studies have determined that Cocculus indicus has no significant effects on the symptoms of jet lag.
Coffea cruda has been shown to reduce brain activity, from higher frequency waves like alpha waves to slower delta, waves to facilitate the process of falling asleep. Tabacum is actually the name for tobacco leaf which contains a variety of alkaloid compounds. The manufacturer claims that it reduces anxiety and nausea. One of the alkaloids, nicotine, is certainly associated with the reduction of anxiety because it causes the blood vessels in the body to constrict. However, this is a rather poisonous compound that can actually cause nausea rather than reduce it.
Dosage
The manufacturer states that children between the ages of three and eleven years can chew one tablet at take off, then every 4 hours afterwards and one at landing. Children above 12 years of age and adults can chew two tablets at take off then two every 4 hours and two after landing.
Possible Side Effects
Though the manufacturer does not state it, there are a range of side effects that can occur with the use of this product. These side effects include nausea, increased heart rate, increased blood pressure, vision disturbances and bleeding. There is also evidence that some of the alkaloids may be unsafe for pregnancy.
Price
One package of 60 tablets can be purchased for $16.99. This price does not include shipping and taxes. Customers are able to receive a 20% discount ($3.39) if they subscribe for regular orders. They will then also receive free shipping.
Guarantee
Genexa offers a 30 day money back guarantee. Unfortunately, they do not specify whether this includes products which have already been opened. It is certified as vegan, gluten-free and non GMO, but does not appear to have any certification by the GMP (Good Manufacturing Practices) body.
Conclusion of Our Genexa Jet Lag Rx Review
The price of the supplement is fairly reasonable and the manufacturer does have some notable certifications. But there are many downsides to this product. The biggest downside is that the manufacturer claims that the ingredients cause a whole bunch of effects for which they have no research or evidence. They also failed to have researched possible side effects that their ingredients can cause. This product is likely a very risky purchase because of these ingredients and the fact that the guarantee is ambiguous.
Top investigative research brought to you by the experts at Customer Review.