Pure Nature Cognifen Review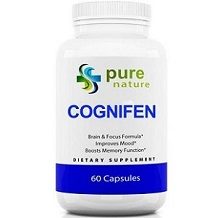 This Pure Nature Cognifen review is going to take a closer look at the facts and details to learn more about how this brain-boosting supplement works and to see if it's worth trying out. The manufacturer claims that Cognifen is made from a brain and focus formula that can improve your mood, boost your memory function, support mental flexibility and enhance lifelong cognitive ability for faster learning, enhanced memory and improved mental performance.
Ingredients
Vitamin A (as Beta Carotene) – 2400 IU
Vitamin C (as Ascorbic Acid) – 125 mg
Vitamin D (as cholecalciferol) – 100 IU
Vitamin E (as dl-Alpha Tocopheryl 50%) – 30 IU
Vitamin B1 (as Thiamine Mononitrate) – 3 mg
Vitamin B2 (Riboflavin) – 1.7 mg
Vitamin B3 (Niacidine) – 12.5 mg
Vitamin B6 (Pyridoxal Phosphate) – 12 mg
Folic Acid Pure – 400 mcg
Biotin 1% – 3 mcg
Vitamin B5 (Pantothenic Acid) – 12 mg
Calcium (as calcium carbonate) – 20 mg
Iron (as Ferrous Fumarate) – 1 mg
Magnesium ( as magnesium oxide 58%) – 50 mg
Zinc (oxide) – 10 mg
Selenomethionine (Amino Acid Chelate 0.2%) – 50 mcg
Copper (Gluconate 13%) – 52 mcg
Manganese (Sulphate 20%) – 400 mcg
Chromium (Polynicotinate) – 12 mcg
Molybdenum (Amino Chelate) – 10 mcg
Potassium (Citrate 36%)
Proprietary Blend (DMAE Bitartrate. L Glutamine, Glutamic Acid, Green Tea Extract, Bacopa Extract, Choline, Inositol, N-Acetyl l-tyrosine, Bilberry Fruit Extract, Gaba Grape Seed Extract, Grape Fruit Seed Extract, Olive Leaf, Cinnamon Bark Extract, Licorice Root Extract, Boron, DHA 14%, Vanadyl Sulfate 19%, Phosphatidylserine 20%, Huperzine A) – 692 mg
Dosage
The manufacturer recommends taking two capsules daily, one in the morning and one in the afternoon with a full glass of water.
If you are pregnant, nursing or under medical supervision, you should talk to your doctor before taking this supplement. You should discontinue use if you begin to experience adverse side effects.
Possible Side Effects
There are no known side effects associated with Cognifen.
Price
You can only purchase this supplement directly from the manufacturer. One 60-capsule bottle costs $49. They also offer the option to purchase a package of two bottles and get one free for $98 or you can purchase a package of three bottles and get three free for $147.
Guarantee
The manufacturer offers a full year to get a refund but does not specify if their policy applies to both opened and unopened bottles.
Conclusion of Our Pure Nature Cognifen Review
Cognifen appears to be a promising brain-boosting supplement. It comes in easy to take capsules for convenience and it is made from a variety of natural ingredients that have been shown to have the ability to sharpen your mind. However, while the manufacturer does incorporate a variety of all natural ingredients, the amounts are low which leads us to question whether or not there is enough for this product to be effective. When we looked to consumer feedback to gauge whether or not this supplement has been effective for users, we were unable to find any feedback anywhere online. The lack of consumer feedback suggests that this is not a popular or well known product. With so many different brain boosting supplements available on the market,  you are better off choosing one that has effective amounts of the active ingredients and one that has consumer feedback that can speak to the product's efficacy.
Top investigative research brought to you by the experts at Customer Review.