C'est La Vie Organic Facial Moisturizer Review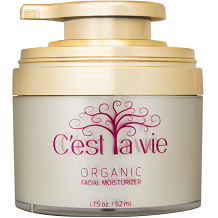 The following is a review of the product Organic Facial Moisturizer. This skincare product is manufactured by the company C'est La Vie. This product claims to have been formulated for sensitive skin. More so, it is anti-aging, repairs the skin, and reduces the appearance of scars, dark circles, blemishes, and wrinkles. It also offers anti-inflammatory properties. Continue reading this review to discover more facts about this product.
Ingredients
Aloe barbadensis leaf juice
Glycerine
Apricot
Kernel oil
Sweet almond oil
Avocado oil
Grape seed oil
Armenia argan kernel oil
Shea butter
Ascorbic acid
Emulsifying wax
Chamomile extract
Stearic acid
Phenethyl alcohol citrus reticulata fruit extract
Mandarin fruit extract
Lemon peel extract
Natural citric acid
Lactic acid
Aqua
These ingredients help to nourish dry skin, also acting as an anti-inflammatory. In addition, the ingredients help to smooth the skin. Almond oil prevents skin spots forming on the face, minimizing dark circles under the eyes and reducing puffiness. Argan oil, an antioxidant, restores the skin elasticity. Apricot kernel oil balances moisture of the skin, while grape seed oil reduces scars and wrinkles. This product is not tested on animals. It is also safe to use on children, does not contain any fragrances, toxins, or other chemicals, and is organic and preservative free.
Instructions
The product should be applied to a clean face and neck while the skin is still slightly damp. One to two pumps should suffice. The user should avoid contact with the eyes.
Price
A 1.75-ounce (52 ml) pump container is available online. This product has a suggested retail product of $69.99 but its sale price is $19.99. The manufacturer offers no bundle packages to reward the buyer for loyalty.
Guarantee
The manufacturer states that there is a guarantee on this product. However, the terms and conditions are not mentioned. The manufacturer fails to inform how many days the consumer has by which to return the product and the condition in which it may be returned. There are many different types of facial moisturizers on the market at the moment. Most of these products claim to do the same as this particular product. However, the difference is between them and this particular product relates to the quality and effectiveness of the product. This as other products offer better quality ingredients (patented and clinically proven ingredients that have been found to be effective. They also offer firm guarantees that protect the consumer, and they offer attractive package deals with discounts.
Conclusion of Our C'est La Vie Organic Facial Moisturizer Review
Organic Facial Moisturizer appears a useful product. There is a guarantee for the consumer and instructions on how to apply the product. However, the guarantee is vague on terms and conditions. The manufacturer of this product also does not offer any package deals to the consumer. Such package deals would have rewarded loyal clients for their support and would have saved them extra money, especially on shipping fees. More so, this product lacks any patented ingredients that would have confirmed this product's high quality.
Top investigative research brought to you by the experts at Customer Review.