Nature's Bounty CLA Review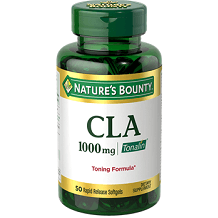 The following review provides an in-depth analysis of Nature's Bounty CLA. This dietary supplement claims to support "healthy body composition and tone". It asserts that its softgel capsules are quickly absorbed for faster results. When combined with a useful workout program and a proper diet, this supplement promises to deliver the best weight loss results especially for people on a reduced calorie diet. Please read this review to find out what Nature's Bounty CLA product is all about.
Ingredients
Nature's Bounty contains 78- 84% of Conjugated Linoleic Acid derived from safflower oil. Every softgel capsule contains 1000 mg of CLA. CLA is purportedly a fat blaster that increases metabolism allowing your body to digest fats, prevent fat storage and increases the body's energy efficiency.
Other ingredients are vegetable glycerin, gelatin, and natural caramel color.
Directions
Nature's Bounty recommends that you take two softgel tablets twice a day, in the morning and the afternoon for a total daily dosage of 3000 mg of CLA. Take the capsules before meals.
Possible Side Effects
The manufacturer says that this product has no adverse reactions. We found some customers reporting issues such as increased bathroom visits and thirst, oily stool, stomach upsets and increased cravings. Nature's Bounty CLA is not for pregnant or lactating women or those below 18 years of age. People on medications or who have serious medical conditions must consult a doctor before embarking on this CLA product. If you experience any adverse reactions, the manufacturer recommends that you discontinue use and see a physician.
Price
You can find Nature's Bounty CLA on Jet.com where one bottle with 50 capsules (12-day supply) was $12.42 at the time of writing and there was a 15% discount coupon available to be applied to your first three orders. The same bottle on Amazon was slightly less at $11.80.
Guarantee
The Nature's Bounty website indicates the company accepts returns of both open and unopened products for refund but does not specify the length of time you have to return a given item.
At the time of this analysis, Amazon customer reviews rated the product with an average of 4-stars but positive ratings were a relatively low (for health supplements) 64% and negative ratings were a little high at 18%. While customers were happy because it delivered its fat blaster properties, on many occasions it seems it did so with adverse side effects.
Conclusion of Our Natures Bounty CLA Review
From this review, Nature's Bounty CLA looks an average CLA product at best. While it offers a good concentration of CLA that is only because you have to take four tablets a day. It is not the cheapest CLA entry in the market and the return policy, while potentially fine, is not clearly specified. The reports of side effects are also somewhat of a concern as is the fact that we did not find the product has cGMP certification.
Top investigative research brought to you by the experts at Customer Review.