PureFormulas Now CLA Review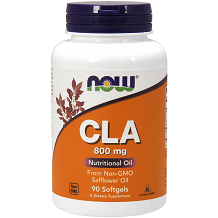 This review is an evaluation of PureFormulas Now CLA. We examine its ability to meet its claims which include the easing the achievement of weight loss goals. PureFormulas notes that its CLA will deliver maximum results if combined with regular exercise, sensible diets and consistent supplementing with its product. It also says this product has no side effects. Let's have a look at this CLA supplement to see if it meets your needs.
Ingredients
PureFormulas manufactures its CLA from non-GMO safflower oil. The form factor is softgel capsules to aid absorption. It contains:
Conjugated Linoleic Acid (CLA) 800 mg in a capsule
Softgel capsules (gelatin, glycerin, natural color, and water)
Conjugated Linoleic Acid is said to increase basal body metabolic activities, helping the body convert glucose into energy instead of storing it as fat. The product is free from soy, milk, gluten, wheat, tree nut, yeast, egg, fish or shellfish.
Dosage
As a dietary supplement, the manufacturer recommends a dosage of three capsules one or two times a day, before meals. How you decide whether to take them once or twice a day is not clear.
Possible Side Effects
PureFormulas Now CLA is for adults only. You are to consult a doctor if pregnant/nursing, taking prescription medication or have any medical condition that can interfere with CLA functionality. Otherwise, this product does not cause adverse side effects. We did not find any, but individual results may vary.
Price
At the time we did this analysis, one bottle of PureFormulas Now CLA containing 180 softgels retailed for $20.76 on the manufacturer's website. We did seen any offers, coupons or bulk purchase discounts. You could buy the same bottle on Amazon for $17.26.
Guarantee
PureFormulas accepts returns of unopened product if the return is requested within 30 days from the day you place your order. PureFormulas will pay the cost of return shipping.
Now CLA had garnered over 100 customer reviews on Amazon at the time of our review with 75% positive and 12% negative, which is a good ratio in this category.
Conclusion of Our PureFormulas Now CLA Review
Now CLA looks like a good product. It is competitively priced and has accumulated good feedback overall. The downside is that you can only return unopened products which means you cannot test its effectiveness risk-free. Also, the dosage information is not the clearest and, if you do choose to take the full dosage it means swallowing six capsules a day.
Top investigative research brought to you by the experts at Customer Review.