Potent Organics Garcinia Cambogia Extract Review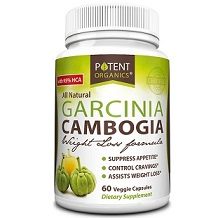 There are many Garcinia cambogia products currently available, largely because of the reputation this fruit has gathered as means to suppress appetite, reduce food cravings and lose excess fat and weight. This review of Potent Organics Garcinia Cambogia Extract will focus on what differentiates this brand and its formulation from its competitors.
For starters, the best Garcinia cambogia supplements have to fulfil three important criteria: they must be potent; they must be pure; and they must be safe. Potent Organics is confident that its product meets these three requirements, and then some. It is third-party tested for purity and is 100% natural with no fillers, binders or artificial ingredients. In addition, Potent Organics only utilises Garcinia cambogia fruit that is farmed in a sustainable way which is good for the environment and the farmers.
However, while many other Garcinia cambogia supplement manufacturers make similar claims, there is one feature that truly differentiates Potent Organics's offering: the high proportion of Hydroxycitric Acid (HCA), potentially making this one of the most powerful Gardinia cambogia extract supplements currently available.
Ingredients
Garcinia cambogia complex 700mg
Potassium (as potassium chloride) 35mg
Calcium (as calcium carbonate) 35mg
Chromium (as Amino Acid Cholate) 140mcg
Inactive ingredients: Cellulose (vegetable capsule); Magnesium stearate (vegetable)
At 95% HCA, this is one of the highest levels of this appetite suppressant ingredient we have found.
The addition of potassium, calcium and chromium to the formulation is believed to boost their absorption.
Dosage
The recommended dose is one capsule twice a day. To achieve the best results, this should be taken 20 to 30 minutes before a meal with a glass of water. While consuming only two tablets a day, giving a total of 1400mg of Garcinia cambogia (most other brands recommend a higher dosage), this formulation delivers the highest percentage of HCA.
Users are warned not to exceed the recommended dose, and to discontinue its use if it is not well tolerated.
Price
Each bottle of Potent Organics Garcinia Cambogia Extract contains 60 veggie capsules, which should last for a full month. If purchasing a supply from the manufacturer's website, the price is $16.97, reduced from $49.97. This is lower than the $17.97 you would pay if purchasing from Amazon. The manufacturer also offers free shipping within the United States.
Guarantee
Potent Organics Garcinia Cambogia Extract comes with a 60-day money-back guarantee. If you are not completely satisfied with your purchase, you simply have to write a brief explanation of your negative experience and you will receive a full refund.
Potent Organics Garcinia Cambogia Extract Review – Conclusion
There is no doubt that Potent Organics Garcinia Cambogia Extract is a good product. It is made in a FDA approved manufacturing facility, to Good Manufacturing Practice (GMP) certification standards. And it is 3rd party tested for purity.
However, despite it having among the highest levels of HCA of all Garcinia cambogia supplements, it has only a 54% five-star approval rating on Amazon, with 17% one-star ratings. The main complaint among those rating the product poorly was that it simply did not work.
Top investigative research brought to you by the experts at Customer Review.