Doctor's A-Z Garcinia Cambogia Review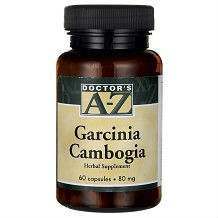 The weight loss supplement offered by Doctor's A-Z prides itself in aiding those trying to lose weight. Making the most of the health benefits of the Garcinia Cambogia fruit, this supplement intends to target the explicit area of weight management. When taking a closer look at the package it is really nothing special regarding design or attracting you to buy it.
However, Doctor's A-Z is not the only business exploiting Garcinia Cambogia. Because of this, why is this supplement considered a quality product over others? When investigating you discovers the answer, only one review could be found concerning this product. Due to this fact, we will have to observe the technicalities of the product in order to make full assumptions.
Ingredients
When taking a closer look at this supplement, we discover the following ingredients are included in 1 capsule:
Garcinia Cambogia – 80mg – Although we know it contains HCA (Hydroxycitric Acid), the percentage is not specified.
Rice Flour*
May contain Magnesium Stearate*
May contain Silica*
*Amounts not specified
Dosage
According to Doctor's A-Z, 1 capsule of this supplement should be used 1-2 times a day with water. There no specific specification as to when these pills should be consumed.
No side effects are known regarding the use of this supplement.
Price
This supplement can be bought for $3.22. This will provide customers with a 30-60 day supply. Customers are also provided with the opportunity to sign up for regular delivery. This form of delivery can be set for automatic shipping every 30, 45, 60, 75, or 90 days.
Guarantee
When clients buy Doctor's A-Z's product, they receive a guarantee which states if you are not pleased for any reason, you can receive a full refund with payment for shipping. This is a first-class guarantee as long as there is no time limit. If a time structure does exist and it terminates before the results show, the entire guarantee is void.
Conclusion – Doctor's A-Z Garcinia Cambogia Review
Because there had been no reviews on which to base our observation of this product, it is vital to look at the information above! Based upon this information, red flags have come to pass which should be of concern to those wanting to buy this product.
First concerns the amount of Garcinia Cambogia. It has been established that a daily quantity of 1600 mg or more is desired in order for weight loss to be effectual. The daily 80-160 mg dosage provided by Doctor's A-Z is very low. For a person to obtain the accurate dosage a consumption of 20 tablets per day would be necessary.
This means a person would use a complete bottle in three days. The second concern originates from the added ingredients. Supplementary ingredients mean users are not receiving a pure, high value product, a benefit most people desire to obtain from herbal supplements.
Top investigative research brought to you by the experts at Customer Review.