Nature's Way Chlorofresh Review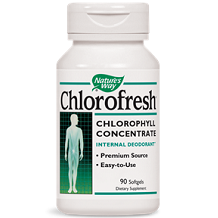 One of the easiest and quickest ways to lose friends and to repel potential acquaintances is by having potent body odor and bad breath. With chewing gum and deodorant acting as band-aids for odors that manifest from within the body, body odor and bad breath must be tackled at its source. This review is going to examine Nature's Way Chlorofresh who claim to act as an internal deodorant, combating and eliminating odor causing toxins and bacteria at the source. They claim to achieve their promise through their unique concentration of chlorophyll complex extracted from premium botanicals that have been associated with the reduction of digestive tract odors. Chlorophyll improves digestion and assists in flushing out toxins which are a known cause for odor.
Ingredients
Active Ingredients:
Copper (from Chlorophyllin copper complex) – 4.5 mg
Sodium – 10 mg
Chlorophyllin (chlorophyllin copper complex from mulberry leaf) – 100 mg
Inactive Ingredients: soybean oil, gelatin, glycerin, yellow beeswax, purified water, soy lecithin.
Chlorophyllin is associated with the cleansing of odor causing bacteria and toxins in the system.
Dosage
Chlorofresh recommends for adults and children over 12 to take 2 softgels 1-2 times daily. If you do not find 2 softgels to be effective, they recommend taking an additional 2 softgels but not to exceed 6 softgels a day. They recommend children under 12 to consult a doctor before consuming this product.
Possible Side Effects
Chlorofresh cites cramps and diarrhea as possible side effects. If side effects persist, they recommend stopping use and consulting your doctor.
Pregnant women, nursing mothers and those taking medication should consult their doctor before use.
Price
You can buy this product from different third party retailers. We found one 90-softgel bottle available online for $9.07. 
Guarantee
Nature's Way clearly states on their website that they do not offer any sort of money back guarantee and the product is purchased through a third party retailer is purchased 'as is.'
Conclusion of Our Nature's Way Chlorofresh Review
Nature's Way Chlorofresh offers a fairly reasonable price and a high dosage of Chlorophyll that has been associated with neutralizing bad breath and body odor.  There is only one single sentence on their website of information about this product aside for the ingredients and dosage. In our pursuit of obtaining more information about this product, we found a multitude of shockingly negative consumer testimonials and reviews. Some claimed that they had to stop taking this product almost immediately because the side effects were so severe. Others claimed that after long term use they did not see any improvement in their body or breath odors. There were even some reports that consuming this product had caused their odor conditions to become worse. This product contains the common allergen, soy, which we found reports had left some consumers in the emergency room because of the severity of their allergic reaction. Although Chlorofresh offers a cheap price it seems you really are getting what you pay for, a cheap, low-quality product. It is no wonder Chlorofresh does not offer any money-back guarantee for their product. Taking into account their lack of information and the plethora of negative reports this is a product we recommend steering clear from.
Top investigative research brought to you by the experts at Customer Review.