Consumer Health Holy Basil Pure Review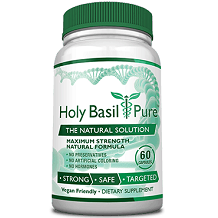 This is a product review on Holy Basil Pure, a holy basil supplement that is rich in Ursolic Acid; which provides anti-inflammatory, antifungal, and antibacterial properties – promoting overall health and well-being. This compound also regulates blood sugar and effective digestion, as well as respiratory support. The company that manufactures this product is proud of the formula purity and concentration, offering extensive customer support to showcase this confidence.
Ingredients
This formula contains no unnecessary ingredients, binders, fillers and, pollutants; assuring customers that it is 100% natural and pure. Each serving (2 capsules) contain 1000mg of Holy Basil leaves of the Tulsi (Ocimum sanctum) plant, with a standard concentration of 2.5% Ursolic Acid. This is a clinically recommended concentration of this compound which is essential for achieving optimal health results. This formula contains no hormones or preservatives, is vegan-friendly, and cruelty-free. The manufacturing facility is GMP certified and registered with the FDA – giving customers peace of mind that care was taken during the production of this product and that it is of a high quality.
Dosage
This product has clear and concise dosage instructions. Adults should take one (1) capsule twice a day and 30 minutes before food. For optimal results, this supplement should be taken in the morning and in the afternoon. As the servings size is based on two (2) 500mg capsules, the total recommended potency of holy basil is received per day. There have been no noted side effects as a result of the use of this product. The recommended dosage should not be exceeded as the servings size was designed to offer optimal effect. This product is all-natural and is safe for long-term use.
Price
Customers can purchase Holy basil Pure from the manufacturer's website, where one bottle of  60 capsules is a months supply. A single bottle can be bought for $49,95. There are many package options available that offer various savings, such as the 6 bottle supply. Customers only pay $139,90, giving you a discount of $280,00 for a 6-month supply. These package deals give customers the opportunity to sustain the use of this quality product without breaking the bank.
Guarantee
The manufacturer showcases great confidence in this product. Customers receive a 100% quality guarantee where they can have a full refund 60 days after purchasing their product. This policy applies to opened bottles too. Customer reviews are positive and have mentioned specific effectiveness with regards to relieving chest pain and congestion as well as supporting vitality.
Conclusion of Our Holy Basil Pure Review
Consumer Health Holy Basil Pure offers a quality product with a clinically-proven and perfectly-dosed supplement. The manufacturer is GMP certified as well as vegan and cruelty-free. The many package offers provide customers with a variety of value-driven choices and savings options; while the guarantee extends a confidence that gives potential and cautious customers peace of mind. There have also been many positive reviews to support the efficacy of this product and thus, recommend Consumer Health Holy Basil Pure as a reliable holy basil supplement.
Top investigative research brought to you by the experts at Customer Review.