Puritan's Pride Raspberry Ketones Review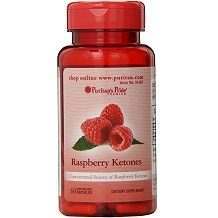 Raspberries, in addition to being a treat for many, are also among the more healthy fruits. They have a number of antioxidant properties and raspberry ketones have been revealed to help with weight loss. Puritan's Pride, which manufacturers a broad range of health supplements, follows its standard procedure on its product website by saying very little about what makes its product special or even just expedient. What the company does say is that its Puritan's Pride Raspberry Ketones (presumably like every other competitor's product) has properties similar to capsaicin, the chemical that is found in chili peppers to make them hot. And why is that significant? That's a good question, but Puritan's Pride doesn't seem to think so and simply leaves it unanswered. In one of its few claims, it does say that its product features rapid release capsules. Is this the Raspberry Ketones product for you? Read our review below.
Ingredients
Raspberry ketones – 100 mg
Inactive ingredients:
Vegetable cellulose
Dicalcium phosphate
Silica
Vegetable magnesium stearate
This is a clean, simple formula which the company notes is free of pretty much every undesirable filler or additives in the supplement industry including sugar, starch, wheat, soy, gluten and fish. The raspberry ketones component itself is, one would assume (since the company doesn't say so) aimed at helping with weight loss and overall health.
Dosage
Take one capsule of this supplement twice a day, each time with a meal.
Possible Side Effects
While there are no reported side effects from taking this supplement, the usual cautionary notes apply. This supplement should not be used by pregnant or nursing women or one who is trying to become pregnant. Those taking medications should speak to their doctor before. This supplement is not intended for those under the age of 18.
Price
Raspberry ketone is inexpensive, remarkably so. On the manufacturer's website, at the time of writing, you could purchase three 60-count bottles (each a month's supply) for $6.99 or six such bottles for $13.98. That's just about as "bargain-basement" as a health supplement gets.
Guarantee
The company provides a strong one-year money-back guarantee. Returns can be implemented by calling a toll-free customer service number or by using its self-service return label feature via the company's website. Unused portions must be returned to receive a refund.
Conclusion of Puritan's Pride Raspberry Ketones Review
Puritan's Pride does not offer very much information or make many claims by which its product can be judged. Undoubtedly its most outstanding feature is its incredibly low price point.
Inexpensive can be a good thing but the cynic, of course, will wonder if it is so cheap that it can't possibly contain (or do) anything of value. Which brings us back to the lack of claims about the product by the manufacturer. Assuming you do your research about the goals of raspberry ketones, and the proper dosage to achieve those goals, this product could be worth a try because it is so inexpensive. Even if it didn't have a year-long money-back guarantee. However, if you're urgently looking for help with weight or other health issues, we would suggest you not spend time experimenting with this particular product.
Top investigative research brought to you by the experts at Customer Review.