Futurebiotics Red Raspberry Ketone + Green Tea Review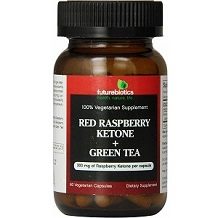 Somewhat curiously, although raspberry ketones may aid weight loss, they have nothing to do with the high fat, low carb ketogenic diet. Scientists first became interested in raspberry ketones when they noticed that what we know as the flavourants in raspberries, share a similar looking structure to known metabolism enhancers such as circumin in chill, and turmeric. Early research does show that the ketones may indeed help to burn fat faster due to stimulating the body into producing adiponectin, a hormone which decreases fat storage. These results are not conclusive and the weight loss in those trials cannot be ascribed to the ketones alone, which suggests when combined with other ingredients or a diet altered to accommodate weight loss, there should be positive results.
Today we review Red Raspberry Ketone + Green Tea as made by Futurebiotics. This product focuses more on the overall benefits of the ketones (such as its antioxidant effect and not only the weight loss effects), but the inclusion of green tea skews the product towards being formulated with weight loss and fat burning in mind.
Ingredients
Raspberry Ketone 300mg
Green Tea leaf extract (decaffeinated) 200mg
Cellulose
Stearic acid
Magnesium stearate
The inclusion of green tea leaf extract bolsters the potential slimming side effects of the ketones by inhibiting appetite, stabilizing blood sugar and aiding faster metabolism. The manufacturer's emphasis on the overall benefits of ketones can be attributed to the powerful antioxidant properties in the ketones, which help ease the burden on vital organs such as the pancreas, spleen and liver. It also aids the thyroid. This brings cumulative benefits for faster, more efficient metabolism indirectly. Antioxidants are important for heart health and aging as well, as they identify and destroy the free radicals responsible for tissue degeneration.
Dosage
Take one capsule take 1 capsule daily with breakfast or lunch, or as recommended by your healthcare provider.
Possible Side Effects
Do not take this if you are pregnant or breastfeeding, and stop if this supplement causes you any discomfort. Do not administer to children.
Price
You'll pay $27.95 for one bottle of 60 capsules, which is a 60-day supply. This is the cost if ordering from the Futurebiotics website.
Guarantee
You may return the unused portion of your product within 12 months of purchasing it for a money back guarantee, should you be unhappy with Red Raspberry Ketone + Green Tea. It seems that this guarantee has terms and conditions which have to be met so it may not be as simple as it sounds. The further terms and conditions are not explicitly stated though.
Conclusion of our Futurebiotics Red Raspberry Ketone + Green Tea Review
This supplement contains 300g of ketones which is more than the 100g most supplements contain. As a result, it should last you longer as you need only take one capsule per day, not more. The inclusion of green tea compliments and enhances not only the anti oxidant properties of this supplement but also the fat burning compounds.
Magnesium stearate as an additive can cause weakness and neuromuscular degeneration and heachaches, among other ailments. But, you'd have to ingest it in very high amounts, so bear this in mind when also using other supplements containing it. For all its promise, this supplement gets surprisingly average customer reviews, and not the kind of stellar feedback you would expect. Most consumers do report that their appetite was curbed, which is what probably leads to the weight loss. As for an actual increased rate of fat burn, the jury's still out.
Top investigative research brought to you by the experts at Customer Review.