Piping Rock Raspberry Ketones Review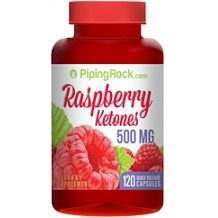 Raspberry ketones have been in the spotlight for their role in breaking down fat cells and making the extent fat in your body easier to burn off. While the results seem to be mixed from person to person, regardless of the supplement or manufacturer, some products tend to have more positive reviews than others. Through our review of Piping Rock Raspberry Ketones review, we will provide you with all the pertinent details regarding this supplement to help you determine if it suits your needs.
Ingredients
The only active ingredient is Raspberry Ketones. These boost the fat burning process by breaking down individual fat cells and have also been shown to boost metabolism, effectively helping your body burn more fat naturally.
Used as a means of getting the ketones where they need to be in the body by preventing the compound from getting stuck elsewhere.
The inactive ingredients include rice powder, gelatin, vegetable magnesium stearate, silica
Dosage
Per the manufacturer's instructions, the recommended dosage for this supplement is one the capsule two times a day. It is best to take each along with a meal.
Possible Side Effects
Through extensive research, including among customer reviews for the product, we did not find mention of any side effects.
It is said that if a user is pregnant, nursing or on medication, they should consult with their doctor before taking this supplement.
Price
For 120 capsules (a 60 day supply if used as directed), the average price is around $10. This is definitely a very affordable monthly cost for most people.
Guarantee
The manufacturer offers a one-year money back guarantee on your purchase of this supplement. Anytime within that first year of purchase, you can return the unused portion of the product along with a short explanation of the reason for the return, and the company will issue a refund. The drawback to this is that you are asked to pay for the shipping and handling on your own. This is not unusual though. Excluding shipping charges from the refund is standard across the industry.
Conclusion of Our Piping Rock Raspberry Ketones Review
This product, like most, has its positives and negatives. Understanding some of its perks and drawbacks should help you to come to a conclusion on whether or not this product is ideal for you. Some positives include:
No known side effects
Inexpensive
Mostly positive reviews
Any product on the market is bound to have a red flag or two, and this Piping Rock product is no different.
Complicated return policy
Numerous Inactive (Filler/Additive) Ingredients
While ultimately there are more positives to be seen with this supplement than negatives, even from a user review standpoint, the choice is up to you. The low cost and high volume of capsules seem to leave a potential buyer with a feeling that they are getting a great value. The issue as always boils down to whether it is effective for you or not.
Top investigative research brought to you by the experts at Customer Review.