Genceutic Naturals Pure Ras Raspberry Ketone Review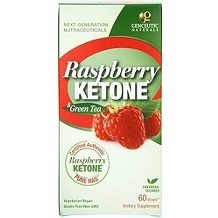 If you're looking for an anti oxidiant boost that may also have slimming benefit potential, raspberry ketones fit the bill. There is preliminary research showing that these ketones, which are essentially the compounds giving raspberry their aroma, inhibit fat storage. They do so by increasing the levels of adiponectin, which is linked to fat burning and fat storage. It is important to recognise that raspberry ketones have as yet not been identified as being responsible for weight loss on their own. They are therefore best used in conjunction with other metabolism aids, a sensible diet and increased activity levels.
Genceutic Naturals is the manufacturer behind Pure Ras Raspberry Ketone with Green Tea Bonus Pack, and this supplement forms the subject of our review today. Genceutic says its supplement is designed to aid weight loss, support the breakdown and elimination of fat, promote the release of fat from fat cells and to help reduce fat accumulation of new fat in fat cells.
Ingredients
Raspberry Ketone 200mg
Decaffeinated Green Tea 300mg
Cellulose
Rice flour
Vegetable magnesium stearate
As is the tendency with quite a few raspberry ketone supplements, this one also contains green tea which has similar fat burning properties. What it certainly does, is curb your appetite, as blood sugar levels are regulated. The urge to eat – often more than is required – is directly related to raised blood sugar levels which cause you to feel lethargic after a big meal, but also to crave more sugar, usually in the form of refined carbohydrates, after a mere one or two hours. The ketones contained here are 100g more than the average in other supplements.
Dosage
Take one capsule, either once or twice daily with at least 8 full glasses of water.
Possible Side Effects
Do not go on this supplement if you are pregnant, breastfeeding or preparing to go into surgery unless you have cleared this with your doctor first. Do not administer to children.
Price
The cost of a bottle of 60 capsules is $34.99 on the Genceutic website. There do not seem to be discounts for bulk purchases.
Guarantee
There is a returns policy but it is not clear how much it covers and over what time frame. You have to fill out lengthy forms, along with verification codes of your purchase. The ambit on these forms seems to limit returns to faulty or incorrect orders only.
The Conclusion of our Genceutic Naturals Pure Ras Raspberry Ketone Review
Pure Ras Raspberry Ketone is both vegetarian and vegan-friendly, gluten-free and non GMO. The green tea is decaffeinated, meaning there is no risk of caffeine consumption as there is in some other raspberry ketone products with green tea, which is important because you do not want to develop the jitters from an overly stimulating effect.
The price though is about 30% more than many other similar supplements. The guarantee policy probably does not allow you to return the bottle should you be unhappy with the effects of Pure Ras Raspberry Ketone, so from this point of view, there is some consumer risk associated with the supplement. Remember too that ketones are not a stand-alone miracle product – to effect weight loss, you must combine taking the supplement with a healthy diet and increased activity.
Top investigative research brought to you by the experts at Customer Review.