Nature's Answer L Carnitine Raspberry Ketones & Green Coffee Bean Review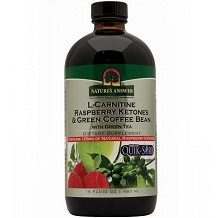 Supplements to help promote weight loss are not exactly uncommon anymore. To mix things up, companies are latching on to the newest science breakthroughs to combine ingredients meant to work best together. Maximizing results is the name of the game. But which companies and what supplements are actually producing the weight loss results or, at least, assistance that many are seeking? Nature's Answer L-Carnitine Raspberry Ketones & Green Coffee Bean with Green Tea is a combination supplement that claims to have the best formula out there. Is Nature's Answer the answer? This review will help you to make that decision for yourself.
Ingredients
L-Carnitine – This ingredient has been used in supplements for quite a while. It is an amino acid that is said to help burn fat and boost your energy levels in the process.
Natural Raspberry Ketones – Raspberry ketones are a strong ingredient within this compound. This ingredient is said to break down the fat cells in your body and aid your metabolism to more easily burn off fat.
Coffee Bean Extract – This ingredient has been shown to help boost your metabolism.
Green Tea Leaf Extract – This ingredient is also shown to boost your metabolism, and in a concentrated form, it is said to boost it even more effectively than drinking green tea normally.
Quik-sorb – This is a blend of herbs that are specifically chosen to bolster the effects of the rest of the formula and to put the active ingredients to use quickly in your body.
Dosage
The recommended dose of this supplement is a tablespoon once a day along with a meal.
Possible Side Effects
There are no listed potential side effects for this product. There is a general disclaimer in place that suggests that anyone who is nursing, pregnant or on any medications should consult with their physician before starting a regimen of this supplement.
Price
For a 16 oz. bottle of this supplement, the purchase price is around $30. This amount will buy you 32 servings, essentially giving you a one-month supply. Compared to other weight-loss supplements out there, this is a little on the steeper side price wise, but it does have more ingredients with weight loss enhancing properties.
Guarantee
Nature's Answer does have a return policy in place, along with a money-back guarantee. There are several options for which they offer to right a potential wrong with their customers. You need to first send back the unused portion of the product and request one of three potential options based on your preferences: a full refund, a credit for the unused portion to be used on the manufacturer's site or a replacement bottle.
Conclusion of Our Nature's Answer L-Carnitine Raspberry Ketones & Green Coffee Bean Review
There are seemingly a number of benefits to this product at face value: its formula of highly regarded weight loss ingredients and the extensive money back guarantee.
There are some drawbacks though. Even though it might be a simple dosage and deemed a powerful compound the retail price is higher than other products in the weight loss supplements category and there have been indifferent online reviews.
It seems that this product is a hit and miss prospect. For those that it has helped, it has helped a considerable amount. It seems that an equal number of folks haven't seen any results at all.
Top investigative research brought to you by the experts at Customer Review.