Neuroline Solutions Migraine Formula Review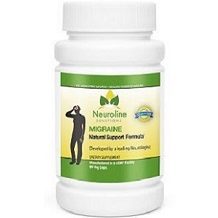 Today we review Neuroline Solutions Migraine Formula. With 12 different ingredients, including various vitamins and herbs, this vegetarian formula helps with every aspect of your migraines. Not only will the severity and the pain of your migraines be naturally reduced, but also the frequency and duration of the headaches.
Ingredients
Riboflavin (B2)
Magnesium
CoQ10
Ginger
Vitamin B1
Vitamin B3
Vitamin B6
Folic Acid
Vitamin B12
Biotin
Para-Amino Benzoic Acid
Pantothenic Acid
This ingredient list is slightly confusing, because the manufacturer advertises having 12 key ingredients in each capsule, but then goes to list 13 ingredients actually used within their formula. This mismatch of information shows that the manufacturer may not know their product as well as they should.
Dosage
Three capsules of this supplement should be taken daily with food. While the manufacturer says the optimal dose is to separate these three capsules into three daily doses, they also state that the supplement is safe enough to take all three together or to take two capsules together in the morning and the third at night. Separating your doses into three times per day will help reduce the chance for side effects. Additionally, these pills must be taken consistently for a minimum of 60 days for the ingredients to build up in your system before you will see the maximum results.
Possible Side Effects
If you are allergic to plants in the marigold family, you should avoid this product for risk of an allergic reaction. Additional side effects from this product could include diarrhea, other gastrointestinal problems, as well as an increased chance of bleeding. Due to this last possible side effect, if you have any surgical procedures scheduled, you should discontinue this supplement at least one week before the procedure to minimize possible complications.
Price
One bottle of this formula costs $39.99. While this is quite expensive for this type of product, buying bottles in bulk will save you extra money. A purchase of two bottles costs only $29.99 per bottle, while buying three or more together will only cost $26.99 per bottle. Additionally, if you have previously purchased this product and send in a video testimonial, you can receive a $25 gift card for your next purchase.
Guarantee
Not only is there no manufacturer's guarantee listed, the return policy this company lists is very vague and is missing a lot of important information. Neuroline Solutions state that all refunds will be credited back to the original credit card used for purchase within 5 business days after receiving your returned product. Unfortunately, it does not state what products are allowed to be returned, whether or not you can return used or empty bottles, or if you must include the original packaging. There is also no time limit mentioned of how long you have to request a refund.
Conclusion of Our Neuroline Solutions Migraine Formula Review
There are a few things we liked about Neuroline Solutions Migraine Formula. The dosing for this product is flexible so you can take your three capsules per day when it is most convenient for you. Also, the company is very up front about all of the possible side effects.
Unfortunately, we found many red flags surrounding this supplement. The company advertises 12 powerful ingredients, but actually lists 13 on their website, giving us wrong information. Next, even with all of the possible discounts, this product is still quite expensive. Lastly, there is a serious lack of information regarding how to return your product for a refund. For these reasons, we cannot recommend this supplement to help you stop your migraines and chronic headaches.
Top investigative research brought to you by the experts at Customer Review.