Blackmores REME-D for Migraine Headache Review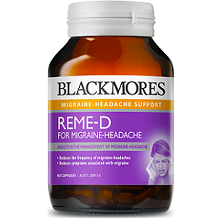 The focus of our product review in this article is on a supplement called Blackmores REME-D for Migraine Headache. This product claims that it will lessen the issue of frequent migraine headaches if it is used regularly and that it will also ease migraine-related symptoms such as nausea and vomiting. It also claims that it will additionally support the health of your nervous system.
Ingredients
Tanacetum Parthenium Feverfew – 560 mg
Riboflavin – 100 mg
Pyridoxine Hydrochloride – 25 mg
Folic Acid – 250 mg
Vitamin B12 – 400 mg
Magnesium Orotate Dihydrate – 56.72 mg
Tanacetum Parthenium Feverfew contains various chemicals that may decrease factors that may cause migraine headaches and research provides a list of possible side effects such as heartburn, digestive issues, nervousness and dizziness. Riboflavin is required for correct development in the body. Pyridoxine Hydrochloride is known as Vitamin B6 and is beneficial for the correct functions of sugars, fats and proteins and is required for proper growth and development of the brain and other body parts. Folic Acid is crucial for correct body development. Vitamin B12 is needed for proper development and function of the brain, nerves and other body parts. Magnesium Orotate Dihydrate is beneficial as a mineral supplement.
Dosage
The recommended dosage for adults is to start by taking one capsule daily and then to increase to two capsules daily as needed or alternatively, as instructed by a healthcare practitioner. The manufacturer advises that you are required to use this product regularly for several months in order to achieve noticeable results.
Possible Side Effects
You should not use this product if you are pregnant or breastfeeding. The supplement can be allergenic for some users. If your symptoms continue you should consult a doctor.
Price
You can purchase a 60 capsule bottle for $22.22 (equivalent in US dollars) on the manufacturer's website. There are no discounted options available or new customer incentives.
Guarantee
The manufacturer has neglected to provide any kind of money back guarantee for this product which shows a great lack of confidence and also indicates a failure to endorse the importance of customer satisfaction.
Conclusion of Our Blackmores REME-D Review
On the plus side, Blackmores REME-D contains some good ingredients in its formulation that could be beneficial for treating migraines. We were pleased to see that B6 and B12 vitamins are added to this supplement. The product is let down in several key areas however. The manufacturer has neglected to provide any kind of money back guarantee, and there are no discounted options available or new customer incentives. At $22.22 for one bottle of 60 capsules this will only last you for one month if taking 2 capsules a day making this an expensive supplement to buy. There are no assurances from the manufacturer that the ingredients are non GMO, made in an FDA certified facility, and free from binders and fillers. For these reasons we suggest that you look elsewhere for a migraine supplement.
Top investigative research brought to you by the experts at Customer Review.