GoodSense Migraine Formula Review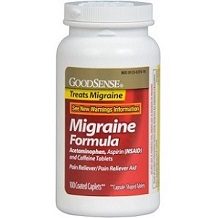 The theme of our product review in this article is a product called GoodSense Migraine Formula. The manufacturer claims that their product offers migraine as well as pain relief.
Ingredients
Active ingredients (in each capsule):
Acetaminophen – 250 mg
Aspirin – 250 mg
Caffeine – 65 mg
Inactive ingredients:
carnauba wax
crospovidone
FD&C blue #1 aluminum lake
hypromellose
microcrystalline cellulose
povidone
pre-gelatinized starch
propylene glycol
saccharin sodium
stearic acid
titanium dioxide
This product is gluten free, but contains aspirin. These ingredients accelerate cerebral blood circulation, and reinforce the immune system. Acetaminophen, aspirin, and caffeine, are all pain relievers. Acetaminophen is an analgesic (work to relieve pain) and antipyretic (that work to reduce fever). It works by altering the way your body senses pain and by cooling the body.
Dosage
Take two capsules with a glass of water. The dosage instructions do not specify if there is a preferred time of day that you should take this supplement or if you should take it with food.
Possible Side Effects
Do not exceed the recommended dose. If you are younger than 18 years of age, you should seek medical approval before using. The recommended dose of this product contains about as much caffeine as a cup of coffee. Limit the use of caffeine-containing medications, foods, or beverages while taking the product because too much caffeine may cause nervousness, irritability, sleeplessness and, occasionally, rapid heartbeat. Ask your doctor or pharmacist before use if you are taking a prescription drug for anticoagulation (thinning of the blood), diabetes, gout, or arthritis; under a doctor's care for any serious condition; taking any other drug; or taking any other product that contains aspirin, acetaminophen, or any other pain reliever / fever reducer. This product contains a non-steroidal anti-inflammatory drug, which can cause severe stomach bleeding. This chance is higher if you 60 years of age or older, have had stomach ulcers or bleeding problems, take a blood-thinning (anticoagulant) or steroid drug, take other drugs containing prescription or nonprescription NSAIDs (aspirin, ibuprofen, naproxen, or others), have 3 or more alcohol drinks every day while using this product, or take more or for a longer time than directed.
Price
This migraine product is not available from the manufacturer's website. We followed to the link to Amazon from the company's home page but found the product was currently unavailable. We did another search on Amazon and found the product advertised at $6.42 for a 24 capsule bottle. The manufacturer does not offer any incentives for new customers or bulk buying discounts.
Guarantee
This manufacturer of this product offers a 100% money-back guarantee on the product but does not indicate the terms and conditions of this guarantee.
Conclusion of Our GoodSense Migraine Formula Review
We found several positive elements to this migraine relief product. There is a 100% money back guarantee, and the product is quite inexpensive per bottle to buy at $6.42. On the less positive side, there are many additional ingredients in the capsule including chemicals, colorings, and artificial preservatives. There is no assurance from the manufacturer that the product is made in an FDA approved facility, that its ingredients are non GMO, and that it is free from binders, and fillers. The manufacturer does not offer any details of its guarantee including time-frame.  Finally, this product does contain preservatives. The product seems cheap to buy at only $6.42 but its not such a bargain when you consider that each bottle only has 24 capsules in it, enough for 12 days of use if taking daily. (It is unlikely that you would take the supplement for more than a day or two without stopping and seeing a doctor if the migraine does not go away). For all these reasons we cannot recommend GoodSense Migraine Relief. Seek out a product with a reliable and detailed guarantee, with purer ingredients, and bulk buying discounts.
Top investigative research brought to you by the experts at Customer Review.