Maxi Health Migraine Max Review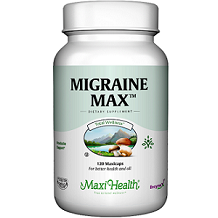 Today we review Maxi Health Migraine Max. Formulated with all natural ingredients, this supplement will help stop your migraines without side effects. Made with vegan capsules and without lactose, almost anyone can take these supplements without worry!
Ingredients
Riboflavin
Vitamin B6
Pantothenic Acid
Magnesium
Bromelain
Coenzyme Q10
Ginger root extract
Feverfew extract
These ingredients are all proven to help stop migraine symptoms and get you feeling back to normal. Some of the ingredients are also proven to help with prevention of future attacks.
Dosage
The manufacturer suggests taking 4 capsules with meals. It is not specifically specified which meals to take each dose with, or if you take it with all three daily meals. By taking it at every meal, this amount of capsules can become annoying to have to remember three times per day.
Possible Side Effects
There are no listed side effects or warnings for this product. This is actually slightly concerning, as even the safest supplements and medications have simple warnings that if you are pregnant, nursing, or taking other medications, you should first consult with a healthcare physician before starting a new dietary supplement. Without even this type of warning, it seems that manufacturer is trying to hide something. In addition to this lack of side effects, customers reported that this turns urine a bright yellow color.
Price
This manufacturer does not sell their products directly to consumers, but instead sends them to make their purchase on Amazon. Amazon offers bottles containing 120 capsules each. While this seems like a lot per bottle, if you break it down by dose, taking three doses per day, this bottle will only last 10 days. With a cost of $45.86 per bottle, this is the most expensive supplement we have ever researched. That brings the monthly cost of this supplement to $137.58. For this type of price, we would expect the customers to never have a migraine again!
Guarantee
Like with all retailers that do not sell their products directly to consumers, we found no information at all regarding a guarantee or return policy. Should you find yourself unhappy with the result of this product, you will need to follow Amazon's return policy, which does not usually allow the return of open bottles.
Conclusion of Our Maxi Health Migraine Max Review
There are a few things we liked about Maxi Health Migraine Max. This formula includes many clinically proven ingredients to help stop the pain associated with chronic headaches. The capsules are also vegan and lactose free.
We did, however, have many concerns with this product. The dosing is extremely high, at four pills per meal. This makes the overall price of this supplement exorbitantly high. Also, with no listed side effects or warnings, this shows the manufacturer is trying to hide something. Lastly, customers are only able to purchase these bottles from Amazon, not directly from the manufacturer, allowing the manufacturer to back out of offering a refund policy or guarantee. For these reasons, we cannot recommend this supplement to help stop your migraine pain and prevent more headaches in the future.
Top investigative research brought to you by the experts at Customer Review.