Colloids for Life CandidAss't Review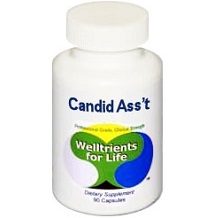 This is an informative review for CandidAss't that will explore the facts. This product claims that it will strengthen your immune system and assist your body to be able to fight off fungal and yeast infections and also help create a balance of healthy organisms for your body and help protect healthy flora and will also assist healthy bowel movements.
Ingredients
Lactobacillus Acidophilus – 8,000,000,000 CFU
Lactobacillus Brevis – 250,000,000 CFU
Lactobacillus Bulgaricus – 300,000,000 CFU
Lactobacillus Casei – 100,000,000 CFU
Lactobacillus Helveticus – 100,000,000 CFU
Lactobacillus Lactis – 100,000,000 CFU
Lactobacillus Plantarum – 400,000,000 CFU
Lactobacillus Rhamnosus – 250,000,000 CFU
Lactobacillus Salivarius – 100,000,000 CFU
Bifidobacterium Bifidum – 1,500,000,000 CFU
Bifidobacterium Breve – 1,500,000,000 CFU
Bifidobacterium Infantis – 2,000,000,000 CFU
Bifidobacterium Longum – 1,500,000,000 CFU
Enterococcus Faecium – 250,000,000 CFU
Streptococcus Thermophilus – 250,000,000 CFU
Lactobacillus acidophilus is a probiotic that produces the enzymes needed for digestion. Lactobacillus brevis improves intestinal flora. Lactobacillus bulgaricus produces proteins that prevent the invasion of viruses. Lactobacillus casei breaks down carbohydrates and stops the growth of bacteria in your small intestine. Lactobacillus helveticus is a beneficial probiotic found in the vagina and gastrointestinal tract. Lactobacillus lactis produces immune supportive lactic acid. Lactobacillus plantarum may liquefy gelatin and utilize glucose fermentation. Lactobacillus rhamnosus also utilize glucose fermentation. Lactobacillus salivarius breaks down proteins and creates b vitamins, enzymes and lactic acid. Bifidobacterium bifidum makes up a large amount of bacterial microflora and prevent bad bacteria from being present in your colon. Bifidobacterium breve, bifidobacterium infantis and bifidobacterium longum also prevent the presence of harmful bacteria and assists with normal digestion. Enterococcus faecium is a good bacteria that inhibits mucosa lining as it harmful bacteria from sticking to the walls of your large intestine. Streptococcus thermophilus may support disease-fighting cells and lower nitrites in your body.
Dosage
The manufacturer suggests that if you are taking antibiotics, you should use this product 1-2 hours before your antibiotics and continue use for two weeks after your antibiotics and may be used with or without meals although, it is better to use with meals. If you experience diarrhea, you are advised to lower your dosage. The recommended dosage is not clear although it seems that it may be one capsule three times daily.
Possible Side Effects
This product may cause diarrhea and you are recommended to lower your dosage, however, it is suggested that this may initially worsen your symptoms. There are no listed cautions for pregnant, lactating or persons under 18 years so it may be a good idea to first consult a doctor.
Price
You can purchase this product online from the manufacturer's website and it is listed at $51.95 for a bottle of 90 capsules. Unfortunately, there are no discounts available.
Guarantee
The manufacturer offers a full money back guarantee that is valid for one opened and used bottles for 120 days from purchase, this does not apply to orders of multiple bottles and they will charge a 15% restocking fee.
Conclusion of Our CandidAss't Review
This product does have some good ingredients and it also has a money back guarantee, therefore, it may be an ok product, however, it does have side effects and it also does not have extremely clear instructions and warnings listed. It is also an expensive option that has no customer reviews and therefore, we recommend that you should rather consider other similar options.
Top investigative research brought to you by the experts at Customer Review.