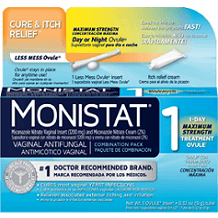 This is a review for Monistat 1. Monistat 1 is a one-day treatment course for vaginal yeast infections. Depending on the version customers purchase, it comes with an ovule, cream, or wipes. Monistat 1 can be used during the day or night and is easy and convenient for every woman to use.
Ingredients
Monistat 1 Complete Therapy and Monistat 1 Cure and Itch Relief contain one active ingredient:
There are two types of uses for Miconazole Nitrate. The first use is a topical cream that can treat a variety of yeast and skin conditions, such as ringworm, jock itch, and athlete's foot. The second use is as a cream to treat vaginal yeast infections only, which is what it is used in Monistat 1. Miconazole Nitrate is considered an azole antifungal. It works by stopping yeast growth, which clears up the infection. Typically, Miconazole Nitrate comes as a cream, but it can also be taken as a tablet.
Monistat 1 Simple Therapy Ointment contains a different active ingredient:
Tioconazole is an alternative to Miconazole. Women who are sensitive to Miconazole often use Tioconazole instead. Tioconazole weakens a fungus' cell membrane, resulting in the fungus' death.
Dosage
Only individuals age 12 and over should use Monistat 1 Cure and Itch Relief. To use the less mess ovule, insert the applicator into the vagina. Throw away the applicator once finished. To use the cream, squeeze a small amount of cream onto your fingertips. Then apply the cream to the itchy or irritated areas. Do this twice a day. While this is a one-day treatment, individuals can use the cream for up to seven days.
After further research, we could not find instructions for the other two Monistat 1 products. However, using Monistat 1 Complete and Therapy and Monistat 1 Simple Therapy will most likely have similar instructions.
Possible Side Effects
Possible side effects include:
Burning
Itching
Irritation
Rash or hives
Other warnings on Monistat 1's label include:
While using Monistat, do not use tampons, douches, spermicides, or other vaginal products.
If taking blood-thinning medicine, consult a doctor before using Monistat 1.
Price
Monistat 1 products cannot be purchased through the manufacturer's website. However, customers can find where Monistat is sold near them using the website's "where to buy" tool. Monistat 1 costs about $20.99 at Walgreens, $18.69 at Target, and $20.00 at CVS.
Guarantee
After further research, we could find no information regarding a guarantee. This is most likely due to the fact this is a one-day treatment. The area of the body Monistat 1 is applied to could be another factor in the lack of a guarantee.
Conclusion of Our Monistat 1 Review
Monistat 1 seems to be a decent yeast infection treatment. It is a one-day treatment that is easy to use. It does have a good reputation for clearing up yeast infections among customers. While some customers complain that it does not work, it is possible that they were suffering from a bacterial infection instead of a yeast infection. Unfortunately, the cream version of Monistat 1 has a reputation for causing severe burning and itching. There is also no guarantee or refund policy.
Top investigative research brought to you by the experts at Customer Review.