Vitaana Health CandidGo Review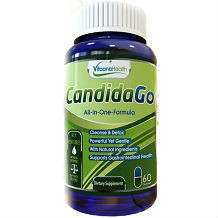 This is a review of Vitaana Health CandidGo.  This is a great product for yeast infection treatment. A yeast infection, also known as Candida, can cause many symptoms and/or health issues. Candida is a group of microorganisms that live in your mouth and intestine. When out of control, many people suffer from constant exhaustion and fatigue, brain fog or loss of memory, carbohydrate and sugar cravings, recurring vaginal infections or jock itch, athlete's foot, itchy skin, bloating after eating or other digestive disorders, and many more. The use of some drugs, or simply a poor diet, can cause an imbalance between yeast and good bacteria in the intestinal tract which can in turn bring about some of these issues. The good news is that yeast infections can usually be reversed with a change in diet and good supplemental treatment.
Ingredients
The ingredients of this product include:
Oregano Extract 500 mg
Caprylic Acid 400 mg
L.Acidophilus 100 mg
Protease 25,000HUT
Cellulase 3200 CU
Aloe Vera 50 mg
Arabinogalactan 50 mg
Anise Seed 50 mg
Black Walknut Hulls 50 mg
Wormwood 50 mg
Reishi Mushroom 25 mg
Gelatin
 Rice Flour
Vegetable Magnesium Stearate
Silicon Dioxide
Dosage
This product may be taken by men and women. As a dietary supplement, take two capsules daily with meals, or as directed by a health care professional.
Side Effects
This product contains tree nuts so there is an allergen warning.
Other possible side effects include vomiting, diarrhea, greasy hair, upset stomach, gas, burping, vertigo, fatigue, brain fog, low grade fever, headache, sore throat, body itch, muscle and/or joint soreness or pain, and feeling as if coming down with a flu.
As with all supplements, medications, or treatments, consult a physician prior to use.
Guarantee
This product does not offer a money-back guarantee. Consumers want to feel confident in trying out a new product.  It is disappointing that this product does not offer the security of a money back guarantee. Many comparable products offer guarantees.
Price
Internet pricing may vary from website to website. At the time of writing this review this product was found for a price of $26.95 for a bottle of 60 capsules.
Conclusion – Vitaana Health CandidGo Review
Vitaana Health CandidGo contains a number of dietary ingredients that will help cleanse and detoxify the digestive system and maintain a healthy yeast balance in the intestinal tract which helps support the overall balance of healthy bacteria. Results will vary from person to person, depending on the severity and extent of the yeast imbalance, diet and general lifestyle.
There are a lot of great yeast infection treatment products on the market, including VitaanaHealth CandidGo. With that being said, when looking at the price of this product and its ingredients, there may be alternatives that are better than this product.
Top investigative research brought to you by the experts at Customer Review.