Blue Star Ointment Review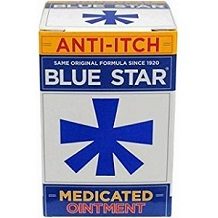 Today we review Blue Star Ointment. This healing ointment helps to soothe the itchiness and heal your skin from a ringworm infection. With regular use, your infection will clear and the skin around it will return to normal.
Ingredients
The main ingredient in this ointment is 1.24% of Camphor. After further research of this product, this ayurvedic treatment is used for its antifungal properties, making it a good home remedy for ringworm infections. We were not able to find any real information about the amount of camphot needed to help heal the infection. Additionally, this medication provides no help for the itchiness that often comes with this type of fungal infection.
Dosage
Before applying this cream, you should thoroughly wash and dry the affected area. Apply a thin layer of the cream over the infection, and repeat this 3 times daily. For the best results, you should also wash your clothes and linens regularly for a week after the infection is gone.
Possible Side Effects
There are no listed side effects or warnings for this supplement. We did find, however, through our research that camphot can be poisonous if ingested or too much is used. This can cause dizziness, seizures, or other complications. With this knowledge, it is imperative that you follow the directions for this supplement precisely, as to avoid an accidental overdose. Additionally, many customers reported that this ointment burned their skin and caused an even worse, red rash.
Price
This manufacturer does not sell their products directly to their consumers, instead they give a list of third party retailers in which you can find this product. Amazon has a 2 ounce container of this cream available for $7.65 with free shipping. This price is average when compared to other over the counter ringworm treatments.
Guarantee
Unlike most manufacturers that do not sell their products to customers, this company does offer a money back guarantee. If you find yourself unhappy with the results of this lotion, simply email or send a letter to the company, and they will help you through the refund process. It is not clear whether or not the company helps with the shipping costs, or if those are the responsibility of the customer.
Conclusion of Our Blue Star Ointment Review
There are a few things we liked about Blue Star Ointment. The price of this ointment is not expensive when compared to other similar products. Additionally, the manufacturer offers a guarantee for their products, even though they do not sell them directly to consumers.
Unfortunately, we found many concerns with this product. The main ingredient for this product can be poisonous if overused, which can cause serious side effects. Also, there is not sufficient scientific evidence to know how much camphot should be used to help clear a ringworm infection. Lastly, many customers reported burning, red rashes that appeared after just their first application of this ointment. For these reasons, we cannot recommend this supplement to help you heal your ringworm and clear the fungus from your body.
Top investigative research brought to you by the experts at Customer Review.