Dr MK's Natural IBS Relief Supplement Review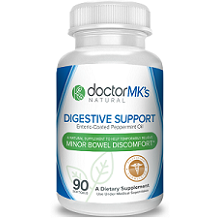 This review is for a product called Dr MK's Natural IBS Relief Supplement, a
product that is designed to provide relief from health issues related to the
Irritable Bowel Syndrome. These include, constipation, diarrhea, bloating and
stomach pains.
The manufacturer claims that this product is of a very high quality and is much
better than a particular very well known IBS supplement. They further claim that the
capsules are easy to swallow and do not have a bad smell that is present in other
IBS supplements.
Ingredients
The main ingredient is enteric coated peppermint oil.
It has been suggested that peppermint oil capsules make it easy for the oil to
penetrate the stomach and dissolves in the intestines to relieve the symptoms
that are related to IBS. Despite its benefits, however, peppermint oil can cause
nausea and heartburn
Other ingredients: Ginger oil, carob, soybean, water, enteric coating, glycerin,
gelatin, fennel oil, and silica.
Dosage
The recommended dosage is 1 to 2 capsules taken 1-2 times a day, 30 minutes
before meals for maximum effect.
Possible Side Effects
Peppermint oil can cause nausea, heartburn and allergic reactions like
headache and flushing. You can also experience anal burning due to peppermint oil if
you have diarrhea.
Price
Dr MK's Natural IBS Relief Supplement is sold for $23.82 from one of the biggest
online retailers, which is a discounted price. The normal price is $25.07 for a
bottle of 90 capsules.
Guarantee
The manufacturer claims that they offer a money-back guarantee, however, it does
not state its duration. This is not safe for the customer as they may end up losing if they return a product latter than they should. It is important to state how long
the guarantee is.
Conclusion of Our Dr MK's Natural IBS Relief Supplement Review
Dr MK's Natural IBS Relief Supplement has a potential of helping with the
management of IBS and other related stomach issues. It contains a natural
ingredient such as peppermint oil, that is known to be good in providing relief
from stomach related issues. Its price is reasonable and even cheaper than many
IBS products on the market. However, the side effects of peppermint worry us,
especially heartburn because heartburn is also a stomach issue. This means that
you try to sort out a problem by creating another one. The money-back
guarantee is also vague, which means that you might not even be able to return
the product should you be unsatisfied with the results. This is a huge concern as it
would not be a good idea to buy a product knowing that you are not protected.
Another thing that we do not like is that the manufacturer compares their
product with another product to the point that they even mention its name. A
good product is not dependent on how others are doing, as long as it has all the
qualities that the customer needs and meets or even exceed the expectations. It
is about customer satisfaction. We recommend that you look for another IBS
product that is backed by a clearly specified money-back guarantee and one that
does not sort out a problem by creating another one.
Top investigative research brought to you by the experts at Customer Review.