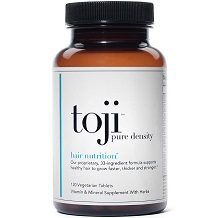 The subject of our product review today is a supplement called Toji Pure Density. This product is a vitamin and mineral supplement that the manufacturer claims can enhance and promote healthier, thicker, stronger hair growth, and will prevent hair breakages.
Ingredients
Vitamin A – 2500 IU
Vitamin C – 100mg
Vitamin D – 100 IU
Vitamin E – 25 IU
Vitamin B1 – 15 mg
Vitamin B2 – 25 mg
Niacin – 25 mg
Vitamin B6 – 25 mg
Folic acid – 200 mcg
Vitamin B12 – 25 mcg
Biotin – 1500 mcg
Pantothenic acid – 25 mg
Calcium 32.5 mg
Iodine – 112.5 mcg
Zinc – 5 mg
Selenium – 25 mcg
Copper – 0.5 mg
Proprietary blend (MSM, eclipta alba, L-cysteine, saw palmetto extract, horsetail extract, L-methionine, linoleic acid, gotu kola extract, bacopa extract, bamboo extract, choline, PABA, inositol, sarsaparilla, ginkgo extract, stinging-nettle extract and grape-extract seed) – 760 mg
Other ingredients:
cellulose
stearic acid
magnesium stearate
croscarmellose sodium
silicon dioxide
hydroxypropyl cellulose
hypromellose
polyethylene glycol
confectioner's glaze
carnauba wax
Biotin, MSM, and horsetail extract, offer nutritional support for hair growth. Ginkgo biloba, vitamin E, and grape-seed extract promote blood circulation to the scalp. Saw palmetto extract is a DHT blocker, which prevents hair loss. The supplement is free from gluten, dairy, fish, tree nuts, peanuts, artificial flavorings or colorings, but it does contain soy. It is unclear if it is suitable for vegetarians and vegans.
Dosage
The daily dose is 4 capsules per day. Take 2 tablets in the morning, and 2 tablets at night with food and water. For best results, you should take it continuously for 6 months and 2-4 tablets daily thereafter to maintain results.
Possible Side Effects
Before using, consult with your physician if you are pregnant, nursing, have a medical condition, or are taking another medicine.
Price
You can purchase Toji Pure Density directly from the manufacturer's website for $20.95 for a bottle of 120 vegetarian capsules. If taking 4 capsules per day, this bottle should last only a month. There is an option to save 10% per bottle if you subscribe to a monthly recurring shipment. Shipping is free on all orders.
Guarantee
The manufacturer provides a 30-day money-back guarantee, but it only applies to unopened bottles of capsules. This guarantee is lacking because it doesn't allow you to try the product, and still qualify for a refund.
Conclusion of Our Toji Pure Density Review
In summarizing our review of Toji Pure Density, we have a few encouraging things to say. Toji Pure Density is made in an FDA inspected cGMP certified facility that has an "A" rating from two independent authorities. In terms of ingredients, the supplement contains ingredients that are known to help promote healthy hair growth, and improve circulation to the scalp and hair follicles. The supplement is free from gluten, dairy, fish, peanuts, artificial flavorings or colorings. There is a guarantee policy provided by the manufacturer which was good to see. The company provides free shipping. There is an option to get a 10% discount if you subscribe to a recurring monthly shipment. We also have some less positive thoughts too. Although there is a guarantee provided, it only allows you to return unopened bottles of capsules and doesn't cover return shipping costs. The product doesn't appear to be suitable for vegetarians, and it also contains soy. The dosage of 4 capsules per day might be annoying for some people. There are a lot of hair supplements out there in the market, so we suggest you look for one with a better return policy that includes the option to return opened bottles, that is better value for money, and provides better bulk buying discounts.
Top investigative research brought to you by the experts at Customer Review.