Viviscal Extra Strength Review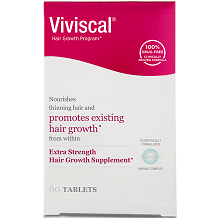 Hair growth dietary supplements are key for people who are interested in growing thicker and healthier hair. They provide the necessary nutrition that the hair requires to flourish. Viviscal Hair Growth is one of the many hair growth supplements available on the market to help you achieve fuller and thicker-looking hair. Viviscal has undergone over 20 years of continuous research and development to ensure that it effectively deals with hair loss. It doesn't matter the cause, whether your hair loss is due to hormonal changes, age, stress, poor diet, or any other factor, Viviscal claims to provide essential vitamins and nutrients to address all the root causes of hair loss. There are numerous scientific and clinically proven studies to back its claims. Read our Viviscal Hair Growth review below to get more information.
Ingredients
The principal ingredients include:
AminoMar complex (contains Shark Cartilage, Oyster extract powder)
Horsetail extract
Millet seed extract
Vitamin C (sourced from the acerola cherry).
Iron
Zinc
Calcium
Other ingredients include:
Microcrystalline cellulose
Maltodextrin
Hydroxypropyl cellulose
Croscarmellose sodium
Magnesium stearate
Natural orange flavor
Methylcellulose
Silicon dioxide
Glycerin
AminoMar is clinically proven to provide the essential nutrients needed to promote existing hair growth from within. Another principal component is biotin which is crucial in helping the body metabolize carbohydrates, fats, and amino acids, which are the building blocks of protein and thus essential in the formation of the hair structure. On the other hand, Vitamin C is an antioxidant that helps to absorb more iron into the blood, which in turn promotes hair growth. Also, iron helps to make red blood cells, which carry oxygen around to cells in the body including hair follicles.
Dosage
Based on Viviscal website, you should take 2 capsules per day for a period of 6 months. You will start experiencing results anywhere between 3-6 months. The manufacturer does not specify groups of users excluded from using this product. It is wise to consult a professional doctor before using this product.
Possible Side Effects
Customers have reported that Viviscal has the potential of interfering with your sleep.
Some people have also reported that Viviscal has caused them to gain weight and experience headaches.
Note that there is no quality research that has been carried to substantively confirm that Viviscal causes the above side effects, they are only user's claims.
Price
If you purchase the tablets online from the Viviscal website, a one-time delivery of 60 tables, lasting one month will cost you $49.99. A 3 months' supply of 180 tablets costs $119.97. If you join their elite membership plan, you will enjoy free shipping, get five free gifts and convenient auto shipping every 90 days.
Guarantee
The marker of Viviscal care is confident that their drug-free Viviscal Hair Growth product will help you to have thicker, fuller and healthier hair. Probably this is the reason they offer you a 90-day money back guarantee. If for any reason you're dissatisfied with your Viviscal purchase, simply return it within 90 days of receipt for a full refund of the purchase price, less shipping and handling cost.
Conclusion of Our Viviscal Hair Growth Review
Many reviews on the internet from customers, celebrities, and hairdressers give the product a positive performance rating. More specifically, they report the supplement is 100% drug-free, which does not pose a dependency risk to its users. Besides the product has undergone over 20 years of continuous research and development to ensure it's relevant to the customer needs. However, there is very little information provided about the manufacturer. This product also does not seem to come with the Good Manufacturing Practices certification essential for ensuring quality.
Top investigative research brought to you by the experts at Customer Review.