Nested Naturals Luna Review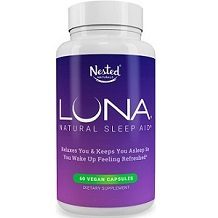 Today we are reviewing a product called Nested Naturals Luna. We will disclose our findings throughout the review. The manufacturer claims that this product can help you fall asleep fast, and wake up feeling refreshed. It is supposed to help you stay asleep the whole night and to get into a healthier sleeping pattern. The product is suitable for vegetarians and is gluten-free.
Ingredients
Magnesium
L-Theanine
Valerian
Passion Flower
Lemon Balm
Hops
GABA
Melatonin
Melatonin is a natural hormone that regulates sleep and wakefulness in the body. Melatonin helps to reset your sleep cycle naturally. The inactive ingredients in the product are Vegetable Cellulose and Vegetable Magnesium Stearate.
Dosage
If you are considering using the product, you need to speak to a health professional before consumption. The manufacturer recommended that you consume 1 to 2 vegan capsules with water, 30 to 60 minutes before bedtime. You should not exceed the recommended dosage.
Possible Side Effects
No side effects or warnings appear on the manufacturer's website. If you are considering using the product, you should speak to a health professional.
Price
Each bottle contains 60 vegetarian capsules. The product is available on the official website for $21.95. If you are looking to save money, you cannot do it with this product since the manufacturer did not offer a discount on the product. Apart from not offering a discount, the manufacturer did not include the shipping cost in the purchase price, meaning consumers have to incur the additional charge.
Guarantee
The manufacturer offers a guarantee for the product. You can claim your money back if unsatisfied with the product.
Conclusion of Our Nested Naturals Luna Review
On the plus side, this product contains no wheat, gluten, GMO, soy, dairy, egg, fish, nuts, corn, yeast, barley, sugar, or preservatives. It is vegan, third-party tested, and manufactured in a NSF certified cGMP facility in the USA. We discovered several flaws in the product, as well. The manufacturer made shipping of the product an additional expense. Consumers do not qualify for a discount since the manufacturer did not offer it. The manufacturer offered a money-back guarantee, but consumers have to pay return shipping to send the product back to the manufacturer if they wish to get their money back. When we checked the customer feedback, we were disappointed to see that numerous consumers stated that the product did not help them to get a good night's sleep. Those consumers were upset for wasting their time on a product that does not deliver results since they could have bought another product that works. If you buy this product you are putting your time and money on the line since it may not produce results.
Top investigative research brought to you by the experts at Customer Review.