Equate Maximum Strength Pain Relief Hemorrhoidal Cream Review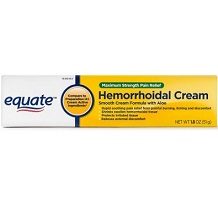 The following is our product review for Equate Maximum Strength Pain Relief Hemorrhoidal Cream. This cream is claimed by the manufacturer to soothe the painful burning sensation often associated with hemorrhoids, to shrink hemorrhoidal tissue, and to relieve external discomfort. The cream contains an analgesic, Pramoxine, to relieve pain. This cream cannot cure hemorrhoids but only treat their symptoms.
Ingredients
Phenylephrine
Pramoxine
White petrolatum
Phenylephrine causes blood vessels near haemorrhoidal tissue to constrict, which reduces blood flow to the area thus reducing swelling. Pramoxine is a local anaesthetic. It blocks channels on nerve cells that are normally responsible for conducting sodium ions into the cells. Glycerine is a lubricating agent to prevent more damage to the haemorrhoidal tissue. White petrolatum is a good moisturising agent.
Dosage
For best results, clean the affected area before using the cream. The cream can be applied to the affected area up to 4 times a day. A dispensing cap is provided to make the application more comfortable and simple. Do not use if you have heart disease, diabetes, high blood pressure, thyroid disease, trouble urinating due to an enlarged prostate gland. Consult your physician or pharmacist before using if you are pregnant, nursing, or taking a prescription drug for the treatment of high blood pressure, or for depression. For external use only, keep away from the eyes.
Possible Side Effects
There are no side effects listed on the product label or website. If symptoms do not improve after 7 days, consult your physician. Stop using the product and consult your physician if you experience an allergic reaction, or if there is bleeding, or if your condition worsens.
Price
The makers of this cream do not sell this product on their own site, but we found it on Amazon where it costs $7.20 for a 1.8 oz. tube or $10.24 for two 1.8 oz. tubes. Amazon does not offer new customer or bulk buying discounts. Shipping is free on Amazon but read the small print first.
Guarantee
Amazon provides a satisfaction guaranteed policy but there are no specific explanations of how long the return policy is good for or if it allows opened products to be returned.
Conclusion of Our Equate Maximum Strength Pain Relief Hemorrhoidal Cream Review
There a few things that we liked about Equate's Hemorrhoidal cream. The product is reasonably priced and there is a discount when buying two tubes of the cream. The cream comes in an easy to use tube with a useful applicator. The product's label is clear and has detailed, easy to understand instructions, warnings, and ingredients. On the negative side, there is no expressly worded guarantee or return policy beyond satisfaction guaranteed. There is no bulk buying nor first time customer incentive provided. The reviews that we read were very mixed. Some were content with the results of using the cream, while many were disappointed saying the cream did not do enough to treat their symptoms. We suggest looking at other competing brands that offer bulk purchasing options and better guarantees.
Top investigative research brought to you by the experts at Customer Review.