BHI Hemorrhoid Relief Tablets Review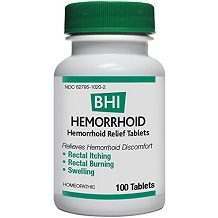 Hemorrhoids are a pain, true. But they're a pain that a great many people will have to deal with at least once in their life. This review of BHI Hemorrhoid Relief Tablets was written to determine whether this all-natural treatment of this painful problem is worth it – or even if it shows proof of working at all.
Ingredients
Aesculus hippocastanum 4x (European Horse-Chestnut)
Collinsonia canadensis 4x (Stone Root)
Leptandra virginica 6x (Culver's Root)
Muriaticum Acidum 6x (Muriatic Acid)
Nux vomica 5x (Strychnine Tree)
Paeonia Officinalis 6x (Common Peony)
Sulphur 10x
Aesculus hippocastanum, also known as the European Horse Chestnut, is an ingredient that is found to aid in vein health, easing varicose veins and hemorrhoids. Aloe socotrina, or just aloe, has, too, long been used to soothe hemorrhoids. Stone root, scientifically named Collinsonia canadensis, works to relieve hemorrhoids by lowering the pressure in the affected blood vessels. Nux vomica is used when treating piles, a side effect of hemorrhoids. Paeonia Officinalis (common peony), much like the European Horse Chestnut, is excellent for vein health. Sulphur is useful in stopping the itching and burning associated with hemorrhoids. While Culver's root is mentioned as possibly being a good herbal treatment, some information shows that it might actually be harmful to people suffering from this condition.
Dosage
The dosage is a bit nonstandard, and might be confusing to follow. Children under the age of eighteen are advised not to take without consulting a physician beforehand. For adults, at the first sign of symptoms, take one tablet every half hour to one hour until the symptoms begin to lessen. Do not take more than twelve tablets within twenty-four hours. After symptoms begin to diminish, begin taking three tablets per day: One tablet every four to six hours. When taking, allow the tablets to dissolve in your mouth. Do not swallow.
Possible Side Effects
There are no actual side effects implicitly stated, though you are advised to seek immediate medical attention if you begin to bleed. It also suggests consulting a physician if you haven't noticed an improvement within seven days. Pregnant and breastfeeding women are urged to consult a physician before use, as well. Children shouldn't use this product.
Price
At the moment, the website listing BHI Hemorrhoid Relief Tablets does not show the price of the product. However, for the same bottle holding one hundred tablets, we were able to find a mean price of between $9 and $13. There appears to be a promotion where, if you have spent more than $35, you will receive free shipping on the product. There don't appear to be any other sales or discounts available.
Guarantee
Despite searching, it appears that there are no guarantees available for this product. Though this might not mean much, it might also show a lack of support behind the product that they are manufacturing. There is no way to know if it works, nor if you'll receive your money back if it doesn't.
Conclusion of Our BHI Hemorrhoid Relief Tablets Review
There are signs that this product could certainly work. The ingredients that we found in this BHI Hemorrhoid Relief Tablets review are known to be useful in the treatment of hemorrhoids. The list is extensive, which means that there are more ingredients to work for you. However, one, Culver's root, has the downside of being potentially dangerous. There is also the troubling lack of a guarantee, and a wide price range to contend with. If you wish to use this product, you should remain cautious.
Top investigative research brought to you by the experts at Customer Review.