Americaine Hemorrhoidal Ointment Review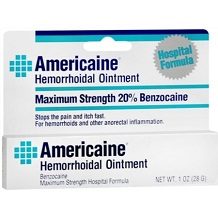 The following is a review of Americaine Hemorrhoidal Ointment. This ointment is a topically applied cream designed to treat the symptoms of hemorrhoids. These symptoms can include itching, burning, broken skin and general discomfort. The primary active ingredient in this ointment is benzocaine which is known for its anaesthetic qualities.
Ingredients
The only active ingredient in this product is benzocaine. Benzocaine is used as a local anaesthetic. We felt that in order for this product to be effective it should be able to address the other symptoms of hemorrhoids including itchiness, broken skin, and inflammation. Competing brands of hemorrhoid ointment contain some of the following proven ingredients that are lacking here; Petrolatum, Mineral Oil, Shark Liver Oil and Phenylephrine HCl. These ingredients would be beneficial because they help to heal inflammation, cure broken skin, and act as a lubricant. Other missing ingredients that we would have liked to see in this ointment are witch hazel, apple cider vinegar, psyllium husk, aloe vera, tea tree oil, epsom salts, and glycerin.
Dosage
Clean and then carefully dry the affected area with warm water and mild soap before applying the ointment. Apply the ointment to the affected area up to 6 times per day. It is only for external use. This product contains 20% benzocaine. There are no directions as to how long to keep using this ointment nor which side effects to look out for.
Possible side effects
There are no side effects listed on the manufacturer's website or product label. Consult with a healthcare professional for use on children under age 12.
Price
Not available on the manufacturer's website, we found the ointment for sale on Amazon for $7.03 with free shipping. There are no bulk order or first time customer discounts available on the manufacturer's website.
Guarantee
The manufacturer does not offer a guarantee nor return policy for this product. The lack of a guarantee suggests that the manufacturer is not completely confident in the effectiveness of their product.
Conclusion of Our Americaine Hemorrhoidal Ointment Review
The positives for this product are that it comes in an easy to use tube and the price is quite reasonable. It contains the ingredient benzocaine which has a reputation for being an effective ingredient for relieving pain. Among the negative aspects to this product are the lack of detailed instructions on dosage. It states that you should use 6 times a day but doesn't say for how long to keep using or if there are any potential side effects. There are no new customer incentives nor bulk buying options provided by the company website. The reviews that we read on Amazon indicated many dissatisfied users who did not gain any significant benefit from using the product. We recommend that you seek out a hemorrhoidal ointment that has a wider list of proven ingredients and one that has a reliable guarantee and return policy.
Top investigative research brought to you by the experts at Customer Review.