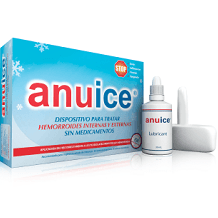 This review is for Anuice Treatment for Hemorrhoids. It is designed to safely remove hemorrhoids in the comfort of your own home using cryotherapy so that you can avoid the complications of surgery and healing time. Because it is a cold-based therapy, side effects like pain, burning, itching, and general discomfort are minimized. It is designed to suit older people, women who are pregnant, diabetics, and others in whom this condition is common. It is FDA-approved, and with proper care, it is reusable.
Ingredients
The Anuice applicator was patented in 1998 as an effective, original tool used to relieve hemorrhoids without creams or gels that can cause additional irritation. Designed to be used for at least a year, the applicator uses your home freezer to reach the appropriate temperature to treat affected areas. By creating an extreme, yet controlled temperature to target affected areas, Anuice provides a safe, reusable solution for those with ongoing problems. The specially designed device comes with four different applicators so you can use the one that is the best fit for your hemorrhoids.
Dosage
Allow the device to chill in the freezer for at least two hours before use. Once it has reached the appropriate temperature, either use the lubricant and insert the tube internally for 8 to 10 minutes for the treatment of internal hemorrhoids, or apply the larger applicator to the affected area for external hemorrhoids and keep it on for 8 to 10 minutes. You should lie in a comfortable position when doing this. After cleansing with soap and warm water, replace the device in the freezer for next use. Do to use boiling water to sterilize as it will permanently damage the temperature control of the device. Use two to three times per day, for four consecutive weeks to provide relief.
Possible Side Effects
As this is a medication-free solution, it is safe to use by anyone affected by this condition. There are no adverse side effects of this device, and it is safe to use for those suffering from chronic conditions, and women who are pregnant or nursing.
Price
The device can be purchased from the manufacturer's website for $39.95, with discounts available for multi-device purchases. Because the device can be reused for a long period of time, it is a cost-effective solution for those who regularly suffer from hemorrhoids and the many associated discomforts that come with them.
Guarantee
There is no mention of a product guarantee with this product. The reviews for this product on Amazon are very mixed.
Conclusion of Our Anuice Treatment for Hemorrhoids Review
While the initial concept may be uncomfortable, reviews do indicate that this product works. Because it is medication-free, and reusable, it is suitable for virtually everyone and is an economical solution for sufferers of chronic hemorrhoids. The primary downside to Anuice is the discomfort associated with insertion. Many reviewers noted that a different lubricant was more effective than the one that comes with this product. This product is also timely to apply, needing you to stop doing what you're doing and lie down for 10 minutes. This is also a product that you can only use when you are at home, so it may not be very convenient for a lot of people.
Top investigative research brought to you by the experts at Customer Review.