Premium Certified HemMD Review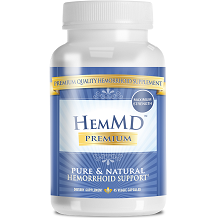 The following review is of HemMD and provides detailed information on the factors that contribute to this product's effectiveness to help you make a wise consumer purchase. The producers of this product state that this dual action supplement and cream will provide vital nutrients that combat hemorrhoids and associated symptoms. The product is designed to provide an all-natural solution to discomfort such as rectal bleeding.
Ingredients
This product comes in a combination of capsules and a cream which have varying formulas for enhanced benefit. The ingredients of each can be seen below:
Capsules Formula
Butcher's Broom
Horse Chestnut
Witch Hazel
Diosmin
Ginger Root
Hesperidin
Oat Straw
Bilberry
Plantain
Rutin
Mullein Leaf
Red Root
Cayenne Pepper
This capsule formula is designed to get to the root of the problem in order to provide relief from symptoms and prevent future hemorrhoids from forming. One of the many powerful key ingredients, Butcher's Broom, is known to shrink blood vessels to provide relief from itching associated with hemorrhoids. Diosmin, Hesperidin, and Ginger Root are included to improve blood circulation for reduced swelling and pain. Additional ingredients offer anti-inflammatory and astringent properties for overall health improvement.
Cream Formula
Petrolatum
Mineral Oil
Glycerin
Oat Extract
Lidocaine HCL
Butcher's Broom Extract
Aloe Vera Gel
Peppermint Oil
Witch Hazel
Marigold Extract
Clove Bud Oil
Bilberry Extract
Hesperidin
Vitamin K1
Rutin
Ginger Root Extract
Psyllium Husk
Melatonin
Diosmin
Vitamin E
This cream is designed to support the benefits of the internal actioning capsules by relieving symptoms associated with hemorrhoids. Lidocaine HCL has numbing properties that will combat associated pain. Aloe Vera Gel is an antifungal agent that will prevent bacterial infection. Vitamin K1 is known for its blood clotting potential and should prevent excessive bleeding. Both formulas work synergistically to provide clinically-tested relief from rectal bleeding and other symptoms.
Dosage
The manufacturer recommends consuming six (6) capsules daily, two (2) in the morning, 2 in the afternoon, and 2 in the evening. The cream should be applied to the affected area three (3) times daily. This application will supply a sufficient concentration of the active ingredients.
Possible Side Effects
This product is made from a combination of all-natural ingredients and does not include artificial ingredients, additives, or preservatives. It is therefore claimed that there are no noted negative side effects associated with the use of this product.
Price
The capsules alone can be purchased online from HemMD for $48, however, there are bulk-buy deals with both forms of the product that offers significant saving potential. A combination of three bottles of capsules and three tubs of cream can be purchased for a $270 discount, at a total cost of $138. This is an inexpensive long-term solution for an effective hemorrhoid product.
Guarantee
The purchase of this product is supported by a 90-day money-back guarantee. This lengthy guarantee is applicable to opened and unopened bottles, meaning that you are eligible for a full refund if the product doesn't work. The inclusion of this guarantee suggests that the manufacturer is confident in its ability to provide effective relief from symptoms.
Conclusion of Our HemMD Review
This dual action capsule and cream contain a variety of essential ingredients needed to combat symptoms associated with hemorrhoids. Each application provides the correct dosage of key ingredients for optimal benefit. A money-back guarantee is offered which indicates that the manufacturer is confident in the product's efficacy. The purchasing options mean that you can save substantial amounts for long-term use of this product. We highly recommend HemMD as an affordable and effective remedy for hemorrhoids.
Top investigative research brought to you by the experts at Customer Review.