Earth Mama Belly Oil Review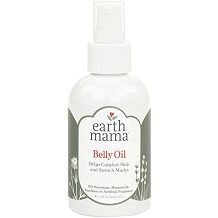 This is our review of Earth Mama Belly Oil. This product is meant to comfort skin and stretch marks. It is made up of a blend of herb-infused oils to slow down the appearance of emerging stretch marks. Belly Oil claims to be able to encourage the skin's natural elasticity. It can be used when you are not pregnant as well. Continue reading for our full review.
Ingredients
Simmondsia Chinensis (Organic Jojoba) Seed Oil
Borago Officinalis (Organic Borage) Seed Oil
Calendula Officinalis (Organic Calendula) Flower Extract
Citrus Sinensis (Organic Sweet Orange)
Citrus Aurantium (Orange) Flower Oil
The ingredients contain no petroleum, mineral oil, parabens or artificial fragrance. They are intended to heal wounds and help soothe irritated skin while helping it retain moisture and elasticity. These ingredients are also claimed to sooth eczema, psoriasis, burns, scrapes, and sunburn.
Dosage
It is recommended to massage a generous amount of Belly Oil onto any part of your body right after your shower or bath.
Possible Side Effects
There are no possible side effects listed on the manufacturers website. You should still check that you are not allergic to any of the ingredients. Please do not orally consume this product since some ingredients are only safe for external use.
Price
Earth Mama Belly Oil is sold in 2 sizes on the manufacturers website. It costs $5.99 for a 1 ounce bottle and $14.99 for a bottle of 4 ounces. You can find it for a little less on other seller's websites.
Guarantee
The manufacturers offer no customer guarantee for this product. Having no guarantee shows that the manufacturer has little to no confidence in this product and doesn't give you much confidence in its effectiveness. This product does have a lot of positive reviews which may be able to give you more hope of its effectiveness.
Our Final Review of Earth Mama Belly Oil
There are a couple of positive things about Earth Mama Belly Oil. It is made with all natural herb infused oils that should help treat stretch marks. It also has a lot of happy customers that said it helped prevent stretch marks and also smelled great. Some said that it didn't prevent stretch marks but kept their skin hydrated. There are also a couple of things that concern us about this product. There is no guarantee. A few customers were upset when they weren't able to return the product when it had no positive effects on them. Others also don't like the packaging. Customers also complained of the smell and oil staining their clothes. All natural oils would do that. We also feel that this product is a bit on the expensive side and know that there is something better out there and therefore would not recommend this product.
Top investigative research brought to you by the experts at Customer Review.