Tuna Omega 3 Oil Standard Process Review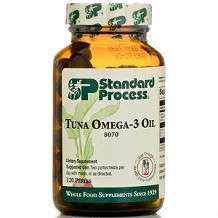 Tuna Omega 3 Oil is able to provide the body with the right amount of essential omega-3 fatty acids.  Research has shown that most Americans do not eat foods which are rich in omega-3 and as such they suffer from a deficiency in these important essential fatty acids. Omega-3 is known to offer several health benefits, including improving cardiovascular health, promoting healthy skin, nails and hairs. Furthermore omega-3 supports mother and baby during pregnancy and during breastfeeding.  It also aids with blood coagulation and helps to normalised blood pressure.
Ingredients
Tuna Omega 3 Oil is shown to contain the following ingredients:
Tuna oil- Tuna oil which is said to support the body's natural inflammatory response function. The oil's properties has been shown to react positively to temporary challenges, such as eating meals which are high in fats or when the body is exerted.
DHA. There is evidence to support the fact that DHA is vital for the proper development of foetal eye and brain development.   For this reason, DHA is essential for pregnant woman as well as lactating mothers.
EPA, which is said to reduce the risk of coronary heart disease.  This claim however, is not conclusive.
Dosage
The recommended dosage of Tuna Omega 3 Oil is 2 perles twice a day.  The perles must be taken with meals. The dosage can be amended by a medical physician.
Price
The cost of one bottle of Standard Process' Tuna Omega-3 oil is $22.00.   A single bottle contains 120 perles and if 2 perles are to be taken per day, a single bottle would be sufficient for a month's supply of the omega-3 supplement.  No discount is offered should additional bottles be ordered.   The product cannot be ordered online. Prospective buyers would need to have their nutritional requirements evaluated before a purchase can be evaluated.  This evaluation is offered free of charge. .
Guarantee
No known guarantee is offered by the suppliers of Tuna Omega 3 Oil.  Simply put, should buyers not be totally satisfied with their purchase of Tuna Omega 3 Oil, and want to return the product, this cannot be done.
Conclusion – Standard Process Tuna Omega 3 Oil Review
Due to the lack of money back guarantee and the fact that Tuna Omega-3 Oil cannot be ordered online, it is hard to recommend this product.
Top investigative research brought to you by the experts at Customer Review.