Kramer Laboratories Fungi-Nail Toe & Foot Review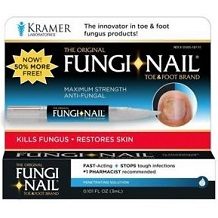 The subject of our product review today is Fungi-Nail Toe & Foot. The manufacturer's of this product claim that it can cure tough fungal infections, including athlete's foot and ringworm, and help restore your skin back to its normal health. The product is designed for use to treat and eliminate fungal infections on the common trouble areas of the feet that are most susceptible to fungal infections. These areas include the cuticles, around nail edges, under nail tips and between the toes. The goals of the product are to provide lasting protection to your toes and feet, to moisturize and heal irritated skin, and relieve the itching, burning and cracking associated with athlete's foot and toe fungus.
Ingredients
The primary active ingredients in this product are 20% Zinc Undecylenate and 5% Undecylenic Acid. The manufacturer claims that this is the highest amount available without a prescription.
Dosage
Clean and dry the affected areas carefully using warm soapy water. Using the dual-angled brush applicator, apply a thin layer of ointment over all the affected areas twice a day in the morning and night. Use the brush applicator's narrow edge to reach infected areas under nail tips and around the cuticles. The wide-angle part of the applicator is ideal for treating the affected skin between and around the toes. There is an instructional video available to show how to properly apply the product. The product label recommends using daily for at least 4 weeks.
Possible Side Effects
Consult your doctor and stop using if irritation occurs or there is no improvement after 4 weeks of daily use. Not for use on the scalp or finger nails. Can be used on children but only with supervision. It's not clear if this product is ok to use if pregnant or nursing. In the FAQ section, it says if you are pregnant or breastfeeding, talk with your doctor about the best way to treat a fungal infection. This is ambiguous, if not ok, then just say so.
Price
This product is not available on the company website, but a link suggests a number of online retailers where the product is sold. On Amazon, a 1 fl. oz. bottle of Fungi-Nail Anti-Fungal Solution costs $8.79 with free shipping. There are no special discounts for bulk orders nor first time customer incentives offered on the manufacturer's website.
Guarantee
The company website states that if for any reason you are not happy, you can mail in a copy of your receipt along with proof of purchase (UPC barcode from the package) but there is no mention of the length of time allowed for returns, if you can return an opened product, or if return shipping is your responsibility or not.
Conclusion of our Fungi-Nail Toe & Foot Review
In reviewing this product there a few things we liked and several more things that we didn't like. The active ingredients in this product are known for their anti-fungus effectiveness which gives us hope that the product can help to get rid of nail fungus. The product comes with an easy to use applicator brush for use under and around the toenails and between the toes. We also liked that the company website gave thorough explanations of what nail fungus is, how to prevent it, and how to treat it. the product is priced reasonably at around $8 and should last for at least one round of treatment depending on how much is applied and the extent of the infection. We were disappointed to see that there was no clear guarantee or return policy but just a vague promise that your satisfaction is guaranteed. It lacks details of length of guarantee and how long the terms of the return policy is. There are no bulk buying discounts nor first time customer incentives offered by the company. The reviews that we read on Amazon indicated some degree of success among consumers while many people were disappointed that the product had limited or no benefits to their toe fungus infections. We recommend you look for a product that is backed by a strong and reliable return policy and one that offers new customer incentives or bulk buying discounts.
Top investigative research brought to you by the experts at Customer Review.