Futspa Natural Skin Care Review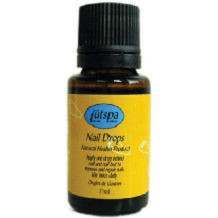 Futspa® Natural Skin Care is a potent anti-fungal mixture that fights toenail fungus and athlete's foot. According to the manufacturer their product is made of natural ingredients to combat all types of fungus.
It acts as an anti-fungal, anti-bacterial, anti-viral and anti-inflammatory antiseptic.  They advise all customers that their product is not diluted, as many other brands available on the market. According to them their blend of castor oil and vital oils stop further germination of fungus.
Ingredients  
Product ingredients contain the following:
Tea Tree oil (antiseptic, anti-fungal, anti-viral, germicidal),
Lavender (antiseptic, anti-inflammatory, anti-fungal),
Thyme (anti-bacterial and anti-fungal),
The product, resource does not have specific amounts (in milliliters) for each of these ingredients in the nail drop product.
Dosage
The supplier advises that you only require one to two drops twice a day and should be applied at the growing base of the nail to restore healthy nails for your feet. The bottle has a built in dropper for easy use and should be used until the infected area has been eradicated.
It your nail has thickened you should file it thinner. You can even add five drops in a foot bath to provide your feet with overall foot tinea.
Price
A 17ml bottle will cost you $35.50, but you can also buy a double pack on offer for $62.50. In addition, you can buy the 50ml bottle and receive an extra dropper bottle for free at a cost of $64.00
Guarantee
Futspa® offers their customers with a 100% purchase price refund guarantee if you are not satisfied with your purchase within the first 60 days. The Futspa® web site is loaded with instructions on using this guarantee. The product source also consists of customer reviews and testimonials documenting the customer experience using the product.
Conclusion of Futspa Natural Skin Care Review
Futspa® Natural Skin Care – Toenail Fungus Nail Drops is a product worth experiment with, regardless of the high price compared with other products on the market. The product comes in various bottle sizes so that a customer can buy the smaller size bottle at a lesser price to try the product out before spending your money on a two bottle package or a larger size bottle to benefit on product savings. The product, merchant offers a realistic return policy and product reviews are favorable.
Top investigative research brought to you by the experts at Customer Review.