Omega Labs USA Fungus Treatment Review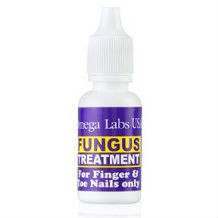 Did you know that there are over millions of people who have nail fungus? This is a common infection, known by various names and few cases. Sometimes it's called Onychomycosis or nail ringworm.
It can be found in your fingernails as well as toenails. It is often spread by others in the locker rooms, public showers or even from family members. This fungus can also be picked up at the salon when they do not sanitize or sterilize their equipment properly.
The most common fungus is caused by dermatophyte fungus. This infection gets into the space between the toe or fingers and nail edges and can cause discomfort with them. But don't fret this can be treated and cured. There are various brands of available treatments on the market today, but you should take care in choosing the right one to provide you with a 100% cure.
Omega Labs USA® Fungus treatment is only one of the brands available to be bought at various online retail stores. According to them their treatment is one of the most effective Fungicides for finger and toe nails that can be bought without a prescription.
By following their treatment for as little as 12 weeks they claim that your nails will be restored back to health. So let's take a closer look at the miracle Fungus Treatment!
Ingredients
The small bottle containing 15 ml (0.5 Oz) of fluid is packed in a white box with purple and yellow description, and has an image of two fingers with a before and after effect of the fungus.
According to Omega Labs USA® contains FDA approved ingredients:
Undecylenic acid (amount in ml not provided – product shipped in 15 ml containers)
Isopropyl Alcohol
Oleic Acid
Glycerin
Fragrance
Dosage
The manufacturer advises that you should wash your hands or feet thoroughly and dry them. Then you must apply the infected areas 2-3 times a day. Keeping your nails dry and exposed when possible.
*No side effects known.
Price
The product can be bought from the retailer itself in various packages on offer to you from an individual bottle for $9.50, six individual packages for $47.50 or twelve counter displays of $674.50. Free shipping is offered to you if you buy for more than $50
Guarantee
The items can be returned if they have not been opened, unless there had been a manufacturer's defect with the item. They provide you with a 30 day guarantee.
Conclusion of Omega Labs USA Fungus Treatment Review
The product has received some positive response from customers who have used the product. However, it is not FDA approved.
Top investigative research brought to you by the experts at Customer Review.