Forces of Nature Nail Fungus Control Review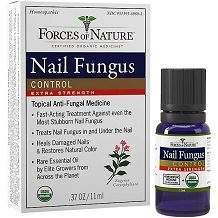 Fungal infections can strike pretty much any part of the body. When they infect fingernails and toenails, the discolored or disfigured surface can be unsightly. Forces of Nature Nail Fungus Control, the subject of this review, is a remedy that claims to treat and heal nails damaged by fungal infections. The manufacturer says that this treatment is the world's first organic formula for treating nail infections and that it is quickly absorbed. It is also said to eradicate even the most persistent fungi thanks to the deep-penetrating formulation. Read on for additional details to help you decide if this is the medication for you.
Ingredients
Active ingredients
Inactive ingredients
Cymbopogon Citratus Oil (Lemongrass Oil)- Provides anti-Inflammatory effects
Eugenia Caryophyllata Oil (Clove Oil)- provides a wide-spectrum effect
Pelargonium Graveolens Oil (Rose Geranium Oil)- Natural astringent
Natural Skin-Cleansing Benefits
Sesamum Indicum Oil (Sesame Oil)- Penetrates a deep penetrating action
Silica provides relief for the symptoms of nail fungus while marigold Promotes healthy skin and healing.
Price
You can buy any of the following sizes from the manufacturer's website:
5 ml for $13.95
11 ml for $26.95
33 ml for  $59.85
We did find any discounts or special offers other than free shipping on orders over $49.
Directions
Clean the affected area thoroughly. Apply one or two drops. Rub gently into the affected region. Repeat this process three times a day. Remember to wash your hands afterward each treatment.
Possible Side Effects
Forces of Nature Organic Nail Fungus Control is for external use only. Also, avoid contact with eyes and mucous membrane. If the condition worsens, you experience bleeding or pus coming out, discontinue use and seek a qualified health professional. Also, consult your healthcare provider if symptoms do not improve after seven days. If ingested, get medical assistance or call Poison Control Center.
Guarantee
The manufacturer gives you a full year to try this product. If for any reason Forces of Nature Organic Nail Fungus Control does not satisfy you, return your opened bottles with the original receipts from your purchase.
As of the time of our review there were about a dozen customer feedback entries on Amazon, the good majority of which rated it positively.
Our Summary of Forces of Nature Organic Nail Fungus  Control Review
Forces of Nature Organic Nail Fungus Control looks like it's off to a good start. It offers a unique formulation and an extended risk-free satisfaction guarantee. However, it does need to be applied three times of day, which is not particularly convenient. Also there is no indication of how long treatment should continue nor could we find information concerning a Certificate of Good Manufacturing Practices which checks on quality and safety of the manufacturing process.
Top investigative research brought to you by the experts at Customer Review.