Kerasal Fungal Nail Renewal Review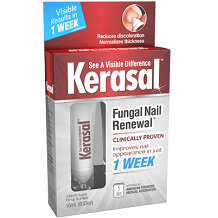 The following review examines Kerasal Fungal Nail Renewal, an advanced formula that claims to penetrate the nail to improve nail appearance. The manufacturer claims it rapidly improves nails damaged by psoriasis and fungus, normalizes thickened nails, alleviates nail discoloration, and softens and rehydrates brittle nails. The manufacturer claims that it delivers all that in just one week. This is why we decided to carry out this analysis, and below are our findings.
Ingredients
Kerasal Fungal Nail Review is a unique blend of ingredients that work to soothe, soften, and renew damaged nails. The manufacturer combines the keratolytic effects of urea with the fortifying and hydrating properties of lactic acid and propylene glycol. These formulations work fast in deeply penetrating the nail plate. The ingredients aim to work to soften and loosen broken nails, smooth the nail surface, reduce discoloration and improve the nail's appearance. The composition adds and binds moisture, eradicating the dry nail plate for a beautiful and healthy looking appearance. The ingredients include:
Glycerin
Urea
Lactic acid
Disodium EDTA
Water
Directions
Kerasal Fungal Nail Renewal should be applied only once a day on the discolored nail with a no-mess, pinpoint silicone tip applicator. To use, hold the tube's tip onto the nail, then press gently, and apply a light layer of the gel over the entire nail surface. The free edge of the nail also needs the formulation. Leave it to dry. Do this every day for a minimum of 8 weeks. Depending on what your condition is, you can use 3 to 6 months for full effect.
Possible Side Effects
This formulation is for external use only. Avoid contact with mucous membranes or eyes. Do not use Kerasal if allergic to any ingredients used to compose this product.
Price
Kerasal provides many online retail shops from where you can buy the product. Kerasal does not sell the product directly. In one of these online retailers, you can buy Kerasal for just $18.86. There was no information regarding discounts, bulk buying, and offers. What we found was a downloadable coupon on the manufacturer's website.
Guarantee
During this research, we did not encounter any manufacturer commitment, guarantee, or a return policy. Lack of a manufacturer's guarantee could indicate that this maker is not 100% sure if the product works or not. We also found six customer reviews all vouching for this product.
Conclusion of Our Kerasal Fungal Nail Renewal Review
From this examination, it seems that Kerasal Fungal Nail Renewal is an excellent product. It is a formulation of ingredients that moisturize and restore the microenvironment of your nail. We also found some satisfied customers rating this product 5-stars. The price looks good too.
Nevertheless, we found a few drawbacks that need your attention. First off this product does not offer any manufacturer's commitment. There is no return investment. There are many products available on the market that do come backed with a 100% money-back guarantee. In line with that, there is no return policy because they use suppliers to distribute. Most customers prefer ordering from the manufacturer because of security and the offers that come with it. Also, we did not find a Good Manufacturing Practices certificate for this product. There is no third party testing to check on quality and safety. We find that Kerasal Fungal Nail Renewal has some serious blind spots. So if you are looking for a nail improvement treatment, consider shopping some more.
Top investigative research brought to you by the experts at Customer Review.