Blue Goo Nail Fungus Triple Relief Review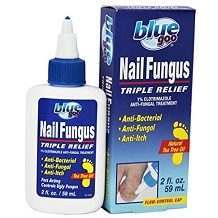 Blue Goo Nail Fungus Relief Formula is the subject of this review. This nail fungus formula is a new anti-fungal treatment plan that claims to cure most athlete's foot disease, ringworm, and jock itch. The manufacturer asserts that it can soothe itch, and control moisture and order. The product can absorb excess moisture by controlling odor-causing bacteria. This analysis will thus focus on these acclaimed benefits so that we can provide you, the consumer, with an educated decision worth your money.
Ingredients
The main ingredient in this formula is 1% Clotrimazole which is an antifungal. This product contains a very long list of inactive Ingredients, such as:
Alcohol denat
Butylparaben
Isobutylparaben
Isopropylparaben
Phenoxyethanol
Propylparaben
Dimethicone
Polyisobutene
Cyclomethicone
Methyl Paraben
Propylene glycol
BHT
Lauroyl Lysine
Fragrance
Polysorbate
Acrylamide Copolymer
Acrylates
Actyldodecyl Stearate
Isodecyl neo pentanoate
Tapioca starch
Talc
C10-30 Alkyl Acrylate Crosspolymer
Water
D&C red #33
These ingredients work together to provide antifungal, antibacterial, anti-itch, and healing properties. Tea Tree oil also confers anti-inflammatory effects. The manufacturer does not really explain how these ingredients work, and the only two ingredients they specifically mention are the tea tree oil and the Clotrimazole, but it is unclear what gives this product its triple strength.
Directions
Before applying, clean the affected areas and dry. Then shake the antifungal product. Apply a thin layer over the affected region two times daily or as prescribed by your doctor.
Possible Side Effects
This remedy is for external use only. It is not for use by children aged below two years unless recommended by a physician. Do not let it get into contact with the eyes. Should symptoms persist or worsen, end dosage and consult a doctor. The product is flammable, keep it away from fires. If swallowed, contact a doctor or call the Poison Control Center immediately.
Price
By the time we concluded this analysis, a 59 ml bottle of Blue Goo Nail Fungus was retailing at $4.26 from Lucky Vitamin. When buying three or more bottles, you buy each of them for $4.22. Six or more containers will cost you $4.17 each. Finally, 12 or more packages retailed at only $4.09 for each bottle. There is free shipping on orders greater than $49.
Guarantee
You have 90 days to try Blue Goo Nail Fungus Relief formula when buying from Lucky Vitamin. If you are not happy, return any opened and unopened containers within that period and they will refund your money minus shipping fees. When returning bulk purchases, know that they will only accept one open-bottle. The rest must be in the Lucky Vitamins' (the supplier) company seal. We also found customer reviews that ranked the product with an average four stars out of five.
Conclusion of Our Blue Goo Nail Fungus Review
Blue Goo Nail Fungus Relief Formula seems to be good enough for people looking for cheap products. It has a return policy (though not easy to understand) and you have 90 days to decide from the day of delivery to decide if your order is right for you. This nail fungus formulation combines 1% Clotrimazole with tea tree oil and other inactive ingredients to give you a fast-acting itch relief product.
Even so, before you rush online to order the product, consider the following drawbacks:
It is always advisable to buy products that have a cGMP certification. This body provides assurance on quality and safety. Blue Goo Nail Fungal Relief does not indicate cGMP certification nor provide any information on complying with the USP stringent rules. Quality should be a guarantee. Speaking of quality, we had an issue with the price. Compared to other nail fungus relief formulas on the market, this product is way too cheap, raising eyebrows on quality and safety too.
We hope that this Blue Goo Nail Fungus Relief review provides you with enough insight to want to consider other products on the market.
Top investigative research brought to you by the experts at Customer Review.