The Tetra Corporation Formula 3 Review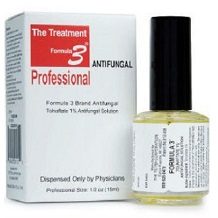 The following is our review of The Tetra Corporation Formula 3. This product uses tolnaftate for the treatment and prevention of athletes foot and ringworm. It has been used and approved by the FDA for over 50 years. With the combination of jojoba oil, it allows the tolnaftate to quickly absorb into the skin and quickly get delivered to the infected area. This product has received the America Podiatric Medical Association's Seal of Approval. Continue reading for our full review.
Ingredients
Inactive ingredients include: Apricot Kernel Oil, Rice Bran Oil, Sesame Seed Oil, Safflower Oil, Jojoba Oil, Vitamin E Acetate, Methyl Paraben, Propyl Paraben, and Butyl Paraben.
The ingredients in this products are meant to help treat itching, soreness, scaling, cracking, redness, burning,  irritation and prevent the recurrence of most athlete's foot with daily use.
Dosage
It is recommended to apply the product after a shower, when the skin has the greatest capacity for absorption. If you don't shower before using this product then you should clean and dry the affected area very well, specifically between your toes. Make sure your feet are completely dry then apply a thin layer of the product all over the affected area twice a day, morning and night. The key is to apply is regularly and not miss an application. Change your shoes and socks at least twice a day or whenever your feet get wet or damp. To make this easier, you can keep extra socks with you at work or when you travel and change them whenever needed. Your shoes should be well fitted and well ventilated. You can also buy absorbent or special synthetic socks to help the perspiration in your feet.
Possible Side Effects
Tolnaftate has a pregnancy rating of category C so you should consult your doctor before using this product if your are pregnant or nursing. The risk of allergic reactions are very rare because this formula does not contain essential oils and instead contains natural oils. Some people that have hypersensitive skin may experience redness and/or itching. If this does occur you should immediately stop treatment and contact a physician. This product is for external use only and should be kept away from eyes. If this product is swallowed you should quickly get medical help or contact a Poison Control Center right away.
Price
The Tetra Corporation Formula 3 will last somewhere between 3 and 6 months. This product is only available through doctors. We were able to find it sold online for $43.50, which seems like a pretty good price for a product that will last 3-6 months.
Guarantee
When you purchase this product at your physicians office, it is backed by an unconditional money-back guarantee. If you are not completely satisfied with this product, you will just need to call the number on the box for instructions to receive a full refund.
Conclusion of Our The Tetra Corporation Formula 3 Review
There are a couple of positive things about The Tetra Corporation Formula 3. It is sold for a very affordable product and has received  the America Podiatric Medical Association's Seal of Approval. There were a couple of negatives as well. More details regarding the guarantee are not provided, therefore we don't know if the product has to unopened and unused to qualify for a full refund. This product is also really not safe for pregnant or nursing mothers which makes us worried about its safety for women in general. We feel you can find a safer product elsewhere.
Top investigative research brought to you by the experts at Customer Review.