Reserveage Nutrition Beautiful Legs Review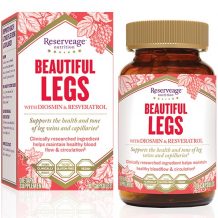 This is our review of Reserveage Nutrition Beautiful Legs. This product's goal is to diminish the appearance of unsightly spider veins. It contains Diosmin, which is meant to help maintain vein structure and smooth skin tone. It also is supposed to fight occasional swelling that may occur due to standing or overexertion of your legs. Continue reading for our full review.
Ingredients
Pro-Longevity Factors Proprietary Blend – Organic French red grape and vine, Muscadine certified organic red grape, seed and grape pomace, Natural Japanese Knotweed – 100mg
Diosmin – 600mg
Grapeseed Extract – 30mg
Butcher's Broom – 30mg
Horse Chestnut – 80mg
Hesperidin – 30mg
Other ingredients include: Vegetable cellulose, rice bran, and silica.
The ingredients are meant to treat health problems associated with inflammation and swelling in the veins. They can help treat leg ulcers, varicose veins, and inflamed hemorrhoids. The proprietary blend contains Resveratrol which provides cellular protection. This product is filled with antioxidants that help protect cells from oxidative stress.
Dosage
It is recommended to take 1 capsule a day. It can be taken on an empty stomach, with food, or as recommended by your doctor.
Possible Side Effects
You should speak to your doctor before using this product, especially if you are pregnant, nursing, have medical conditions, or are on any prescription medications. There are no possible side effects listed on the manufacturer's website. We did find during our research that some of the ingredients may interfere with digestion, pregnancy, and blood pressure and stimulant medications, which is why the label lists the warnings we mentioned above.
Price
Reserveage Nutrition Beautiful Legs is sold for $28.99 for a bottle of 30 capsules. This should last you a month if you are taking the daily recommended dose. We were able to find it sold for $23.19 on another seller's website.
Guarantee
This product has a 30-day money-back guarantee. You can return the product if it is unused, damaged, or defective. They don't specify if you are able to return an opened and used product. They do say that if you are unsatisfied you can return it within 30 days, but it's not completely clear what they mean by "unsatisfied".
Conclusion of Our Reserveage Nutrition Beautiful Legs Review
There are a couple of positive things about Reserveage Nutrition Beautiful Legs. It has a 30-day money-back guarantee. This should give you more confidence in buying this product since you are able to return it if you change your mind. It is unclear whether you can try the product and still get a full refund. This product also has many positive reviews. Customers said that this product really helped with their poor circulation and even got rid of the cramps they had in their feet. There were a couple of things we didn't like about this product. This product seems to be a bit on the expensive side. If you would need a new bottle every month, it will end up costing you a lot. There were also a bunch of customers that felt this product was ineffective. One customer said that it actually caused them to gain weight by increasing their appetite. With all of this information, we feel there are better products out there and you should continue your research.
Top investigative research brought to you by the experts at Customer Review.