Circulation Essentials Healthy Choice Naturals Review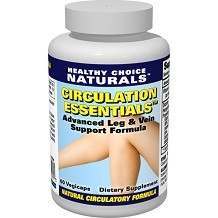 This is our review of Healthy Choice Naturals Circulation Essentials. This product's goals are to help the appearance of varicose veins in your legs by helping blood circulation. It also claims to support achy, tired legs and feet while reducing swelling and night cramps. Continue reading for our full review.
Ingredients
Vitamin C – 30 mg
Diosmin – 600 mg
Hesperidin – 100 mg
Proprietary Blend – Grape Seed Extract, Pine Bark Extract, Rutin, Quercetin, Silicon – 130 mg
The ingredients are meant to help blood circulate through your legs and feet. They also should have anti-inflammatory effects and reduce inflammation and fluid loss in the tissue of your lower extremities. They can do this by helping the return of fluid back into the blood circulation which reduces any swelling.
Dosage
It is recommended to take 2 capsules a day with a meal or as directed by your doctor. Do not exceed the recommended dose.
Possible Side Effects
You should not take this product if you are pregnant, nursing, or under the age of 18. Before taking these, consult your doctor if you have any medical conditions. There are no possible side effects listed on the manufacturers website.
Price
Healthy Choice Naturals Circulation Essentials has 6 purchasing options. You can buy 1 bottle for $23.00, 2 bottles for $39.00, 3 bottles for $54.00, 6 bottles for $102.00, and 12 bottles for $180.00. Each bottle is a 1 month supply. The price is pretty fair when buying 1 but gets much more affordable when buying larger quantities.
Guarantee
This product has a 90-day risk-free 100% money-back guarantee. You can purchase this with confidence since you can actually try the product and still qualify for a refund if you find that it is not effective. The customer reviews for this product were mixed. Many felt that this product was able to provide relief to their varicose vein issues. Other customers felt this product didn't help them since they din't see any results after a month and said it was a waste of their money.
Our Final Review of Healthy Choice Naturals Circulation Essentials
There are a couple of positive things about Healthy Choice Naturals Circulation Essentials. It has a great customer guarantee that shows the manufacturer has a lot of confidence in the effectiveness of this product. It also is sold in different quantities for affordable prices. There were a few things that concerned us though. There were many customer reviews saying that this product didn't help them and was a waste of money. Even though this product is pretty affordable, if it does work you will need to constantly be taking these capsules to continue seeing results. This may end up costing you a lot of money in the long run. We feel that there are better options out there and would not recommend this product.
Top investigative research brought to you by the experts at Customer Review.