Forces of Nature Varicose Vein Control Review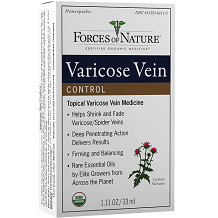 This is a review of a homeopathic topical remedy for varicose veins, which is supplemented with plant extracts. These botanicals are meant to increase the working of the homeopathic ingredients. As a result, the manufacturer calls it 'two treatments in one'. The remedy is called Varicose Vein Control. The manufacturer, Forces of Nature, claims that their cream is the best natural remedy for spider veins. Can this claim possibly be accurate? This, in short, is what our review seeks to establish.
Varicose or spider veins are big veins that usually bulge out in the legs. Often, they appear blue, green or purple in colour. Spider veins are mostly caused by genetic factors, having to stand a lot during the day, being overweight, birth control pills and constipation. They can also be due to a lack of exercise which interrupts optimal blood flow throughout the body. Hormonal changes, too, can play a role. Most commonly, hormones will fluctuate during puberty, menopause and pregnancy.
Some spider vein sufferers are unhappy with the appearance of these big veins. However, there are more 'serious' symptoms too. These include throbbing, tiredness, restlessness, burning sensations, tingling feelings or a feeling of heaviness in the legs.
Ingredients
Carduus Marianus (Milk Thistle)
Hamamelis Virginiana (Witch Hazel)
Pelargonium Graveolens Oil (Rose Geranium Oil)
Cupressus Sempervirens Oil (Cypress Oil)
Melaleuca Viridiflora Oil (Niaouli Oil)
Sesamum Indicum Oil (Sesame Oil)
Witch Hazel and Horse Chestnut feature commonly in natural treatments for 'blue' veins or spider veins as they are known to be effective. Witch Hazel is an astringent, strengthens blood vessels, and generally reduces symptoms. In addition, it contains essential oils which help swelling go down. Horse Chestnut has similar properties to Witch Hazel. However, it also contains a compound, aescin, that helps veins become more elastic and strong. Aescin also prevents the release of enzymes that damage capillary walls. Milk thistle is lauded for being able to detox the liver, kidneys and spleen. This means that a better 'quality' of blood s produced which does not clog the veins.
The oils work as topical antioxidants and promote healthy skin. They also  act as an astringent, causing the blood vessels to contract and bulge less.
In this review of Varicose Vein Control, we must highligh that homeopathy is a branch of traditional healing that helps the body treat itself, rather than being 'the' remedy. It exposes the body to the cause of the irritation. The belief is that this stimulates the body into repair overdrive. In this case, the manufacturer has stated that the plant remedies complement and synergize with the homeopathic remedies. This is bound to make the product work more effectively than a purely homeopathic formula.
We think this topical cream is made up of well-known ingredients that do work to lessen the appearance and symptoms of spider veins. If the varicose veins are particularly pronounced or if you have suffered them for long, you may experience less overall relief.
Optimal treatment of spider veins though comprise an internal component that is ingested, as well as an application such as a cream. The internal ingredients would typically help with blood flow and circulation. This is one half of the spider vein battle won.
Dosage
Rub the Varicose Vein Control onto the affected area at least 3 or 4 times a day. Continue doing so for a week after symptoms have cleared. The manufacturer states that mild cases will clear up in 3 to 4 weeks. Moderate or severe cases may take several months, or even longer.
Possible side effects
The product is safe to use externally, except on the eyes. Do not use this cream on cuts, open wounds or blisters. Should your skin or condition worsen, consult a doctor. This could be due to a sensitivity to one of the oils. Do not use on children under 2 without consulting a doctor first. You should also obtain doctor clearance if you are pregnant or breastfeeding.
Price
You'll pay $24.99 for a 33ml bottle on the product website and $19.58 on Amazon. There doesn't seem to be a bigger bottle.
Guarantee
Varicose Vein Control comes with an impressive 12-month guarantee. Be sure to retain proof of purchase.
Conclusion of Our Varicose Vein Control Review
The product obtains above average ratings from users, who emphasize that patience is key. You also have to apply it consistently. We like the manufacturer's confidence in their product. They walk the talk by providing a one-year guarantee.
Milk Thistle, Horse Chestnut and Witch Hazel are indeed potent herbal spider vein remedies. We agree that the appearance of these bulging veins are likely to be less prominent. However, it depends on the severity of the symptoms. There should at least be some relief.
The drawback of this Varicose Vein Control is that it is only for external application. Ideal remedies address the issue of vein blockage from the inside as well. Doing so minimizes the risk of the condition returning. A good product to try though, especially as it is completely risk-free.
Top investigative research brought to you by the experts at Customer Review.