VaricoVein Country Life Review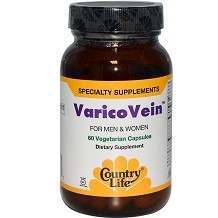 When men and women start to age, Varicose veins can prove to be quite the problem for them. These veins are rather painful and not forgetting; quite unpleasant to look at. Having to stand for long periods of time makes these kinds of conditions worse for older people. Support hoses have been known to help ease the situation a little bit, but they do not treat the problem. Other methods are also available, but they are not effective or long term.
That is why it is advisable to open and free your mind to Holistic treatment options because they don't have any side effects.  Plus, all these surgeries they perform always seem to develop into some kind of complication that leads to more health problems. VaricoVein Country Life are one out of the many treatments that are known for treating Spider and Varicose veins.
Ingredients
The minute you set your sights on a particular product that you may want to take, then you must analyze and research it's ingredients so that you know exactly what you are consuming.
VaricoVein has a total of 4 ingredients and they are:-
100 mg of Grape seed Extract (95% polyphenois)
900 mg of Diosmin
200 mg of Vitamin C
112 mg of Orange Extract (95% hesperidin)
Dosage
It is recommended that you take two capsules everyday.
Side Effects
There are no side effects offered by the manufacturer, but by judging from the list of ingredients above, there might be none for they are all natural.
However, don't go by this assumption that you are consuming all natural ingredients so you shall be fine. Always ask and seek the advice of a doctor even when you know it to be so.
Price
VaricoVein is priced at twenty nine dollars and ninety nine cents. it's packaging is a bottle and the contents are 60 capsules in each. The pills are expected to last for a month.
Guarantee
There is no guarantee for this product nor was there any guarantee found when an internet search was made. When manufacturers don't give guarantees, a red flag goes up for the consumer because you want to be assured that the product they claim to be great is actually great. But if they are not backing their claim with some kind of guarantee, then you can only be left to assume that they don't have that much faith in their own product.
Conclusion – VaricoVein Country Life Review
The VaricoVein Country Life is obviously a good product to treat Varicose veins. The lack of a guarantee however, is not good. It makes you wonder why they don' have one. If they say that it is all that and more, then they should be able to back it up with a guarantee.  It is up to you, as a consumer to be consciously aware of what you buy and if the company you buy if from can validate it's claims.
This product has not been inspected by the FDA.
Top investigative research brought to you by the experts at Customer Review.