Derma E Skin Lighten Review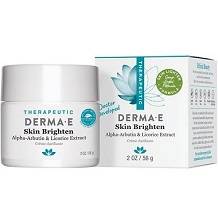 When it comes to lightening your skin, there are many products that are available. Choosing to lighten your complexion is a personal choice. If you are interested in learning about a skin lightening product, make sure to read this article. Skin Lighten claims to assist in fading age and liver spots, lighten your complexion, evening out skin tone. This manufacturer claims that the product is an innovative, oil-free treatment. Learn more about this product in our review.
Ingredients
Some of the ingredients include:
Silybum Marianum (Milk Thistle) Extract
Alpha-Arbutin
Glycyrrhiza Glabra (Licorice) Root Extract
Milk thistle boosts vibrancy. Alpha-Arbutin is a concentrated active. Alpha-Arbutin slows down tyrosinase's activity (tyrosinase is an enzyme that triggers skin discoloration). The production of melanin is inhibited by licorice.
This product contains no harmful bleaches or hydroquinone. You can use this product to lighten skin on all parts of the body. For maximum effectiveness, wearing protective clothing is recommended. Do this to keep the areas you are attempting to lighten out of direct sunlight. This product is 100% vegan, cruelty-free, paraben-free. It is free of sulfate, mineral oil, lanolin, GMO and gluten.
Instructions
You scoop out a little amount of the product onto your fingertips. Apply the product to your whole face and throat or any area of the skin that you want to treat. You can use it on any area of the body. You can use this product under make-up.
Price
A one-time purchase of this product is $24.95 on the manufacturer's website. You can choose to subscribe & save 10%. If you choose this option, you only pay $22.46. By choosing to subscribe & save, this means that you subscribe to receive the product how often you would like. You will be automatically charged every time the product ships to you. The manufacturer only offers shipping within USA.
Guarantee
The manufacturer's guarantee is quite impressive. Each product the manufacturer sells has a 100% money-back guarantee. If you aren't totally happy with your purchase on the manufacturer's website, all you have to do is return it together with the original order confirmation or packing slip to the manufacturer within 30 days. The original purchased price of the product will be refunded. Shipping and handling charges are non-refundable. People who use this product know that they can return this product if necessary.
Conclusion of Our Skin Lighten Review
We feel that saving 10% is quite a big bonus when purchasing this product. Another plus for us is that this product is free of so many things. This product is even suitable for vegans. The positive customer reviews show that these people were impressed with the product, and it was successful for them.
However, after reviewing this product we are unsure how often people are supposed to use this product, as it does not say in the directions for use. We would have preferred to know how many times a day this product can be used. It is also unclear how long this product must be used for in order to see results.
Top investigative research brought to you by the experts at Customer Review.