Hawaii Pharm Moringa Liquid Extract Review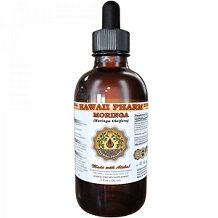 Coined as the "Tree of Life" for its many known health benefits, Moringa has become one of the most popular supplements to take. The market is full of Moringa products, some better than others, and it can be hard knowing which is worthwhile. This Hawaii Pharm Moringa Liquid Extract review is going to take a closer look at the facts and details to learn more about how this Moringa supplement works and to see if it's worth trying out. The manufacturer claims that their supplement is super concentrated and is of the highest strength.
Ingredients
The only active ingredient in this supplement is Organic Moringa Oleifera Dried Leaf Powder. Other ingredients include vegetable glycerine, alcohol, and water.
Moringa is a plant that is native to Asia and contains proteins, vitamins, and minerals that offer a wide array of health benefits. It is a strong antioxidant that can protect your cells from damage. When taken orally it is believed to support healthy respiration and can relieve anemia, arthritis, constipation, diarrhea, stomach pains, high blood pressure, kidney stones, thyroid disorders and can help increase milk supply for breastfeeding mothers.Hemp seeds are rich in protein, polyunsaturated fatty acids, omega 6, omega 3 and insoluble fiber. They are also a good source of Vitamin E antioxidants.
Dosage
The manufacturer recommends shaking well before use. Take 20-30 drops up to four times a day or as otherwise directed by your healthcare provider. It is recommended that you mix the drops with a flavored liquid. It is possible to drop the drops directly into your mouth but that is not recommended because the taste is unpalatable.
This supplement is not meant to be used during pregnancy or if you are allergic to any of the ingredients. Talk to your doctor before taking this supplement if you are nursing or are taking any medications.
Possible Side Effects
We were unable to find any associated side effects.
Price
You can purchase this Moringa Liquid Extract directly from the manufacturer's website and from third-party retailers. One 4 oz. bottle costs $29.95 on the manufacturer's website.
Guarantee
The manufacturer will only accept a return for closed and unused products but they do not say how much time you have to request a refund.
Conclusion of Our Hawaii Pharm Moringa Liquid Extract Review
Hawaii Pharm Moringa Liquid Extract appears to be a promising Moringa supplement. It comes in an easy to take liquid formula and it does not have any known side effects. The manufacturer appears to offer a money back guarantee but their policy is unclear and limited. They will only offer a return for products that are sealed and unused which means that if you purchase this supplement, try it and are dissatisfied in any way, you cannot get your money back from the manufacturer. Furthermore, when we turned to consumer feedback to gauge whether or not this supplement has been effective for real users, we were surprised to find that there is no consumer feedback on any forum online. The lack of consumer feedback suggests that this is not a popular or well known supplement. You are better off choosing a Moringa supplement that is backed by a strong manufacturer's guarantee for consumer protection and one that has consumer feedback that speaks to the product's integrity.
Top investigative research brought to you by the experts at Customer Review.