Consumer Health Turmeric Pure Review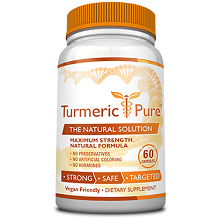 The following review is on Turmeric Pure, a turmeric supplement that is if the highest quality, strength, and purity. This supplement is used for its powerful antioxidative and anti-inflammatory properties as well as a mood enhancer and for overall vitality. Consumer Health is highly confident in this product's ability as a supportive supplement, happily accepting the customer title of the 'Ultimate Turmeric Supplement'.
Ingredients
There are no fillers, binders, additives, or preservatives included in this formula. This product has two (2) primary ingredients: Turmeric Curcumin Pure and Bioperine. The supplement's source of Curcumin is 100% pure with no additional fillers, binders, preservatives, or any other artificial ingredients; ensuring that this product has an effective potency of 95% Curcuminoids. To enhance the bioavailability and absorption of the beneficial nutrients, the formula includes Bioperine (Black Pepper Extract). This product is all-natural, vegan-friendly, and cruelty-free. Extensively researched, backed up by clinical data, registered with the FDA, and cGMP certified; this product gives customers peace of mind that the ingredients are of a high quality and that the formula has been thoroughly tested for the utmost efficacy.
Dosage
The manufacturer offers clear and concise dosage instructions on how to effectively use this product. Adults should take one (1) capsule twice a day with water; taking one (1) in the morning during breakfast and one (1) in the afternoon with lunch. This dosage delivers an effective amount of 95% Curcuminoids with each 1000mg serving, accompanied by 20mg of Bioperine for optimal nutrient absorption. As each serving is already optimized for maximum efficiency, do not exceed the recommended dose. There have been no noted side effects as a result of the use of this product and because the ingredients are high-quality and all-natural, this supplement is safe for long-term use.
Price
If you would like to purchase a bottle of Turmeric Pure supplements, you can do so directly from the manufacturer's website. To buy one (1) bottle, which is equivalent to a month supply of 60 capsules, you will pay $49,95. There are many package offers provided by the manufacturer that allow customers various value-driven deals. The most popular package is the 6 bottle supply, which offers the best value because you only pay $139,70 for a 6-month supply while saving $280,00 in the process. These package offers allow customers to afford a sustained use of this quality product.
Guarantee
There is a 100% satisfaction guarantee offered by the manufacturer along with a 60-day return policy in which customers can receive a full refund. This policy is extended to opened bottles too, which gives customers the opportunity to test this product's effectiveness for themselves. All online purchases are 100% encrypted, giving customers a safe and secure platform for online shopping. There have been many positive reviews that stand as a testament to the efficacy and quality of this product; with specific mention to it supporting various customers' immune system and joint health as well as relieving pain and enhancing mood.
Conclusion of Our Turmeric Pure Review
Turmeric Pure by Consumer Health is an all-natural, vegan, animal-friendly, and 100% pure supplemental support. The formula has been thoroughly researched and tested, having reputable certification form the cGMP. The dosage is accurate and optimized for maximum efficiency. The many package offers available make this product affordable to sustain long-term use; and the full guarantee, as well as the extent of the returns policy, gives potential customers a lot of support and peace of mind that this product is effective. All things considered, we highly recommend this product and feel its customer title of the 'Ultimate Turmeric Supplement' is more than justified.
Top investigative research brought to you by the experts at Customer Review.