Research Verified Prosta Relief Review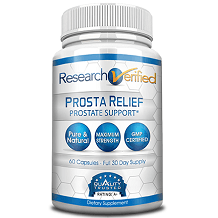 Research Verified Prosta Relief is one of the finest products available for maintaining optimal prostate health. It contains 100% natural ingredients which help provide a range of benefits for the prostate such as size regulation and reducing enlargement. Other benefits are that it maintains proper bladder functioning, promotes good urinary tract health apart and enhances sex drive, virility, and performance.
Ingredients
Prosta Relief contains 18 hand-picked ingredients that have proven beneficial for prostate health. These include the following:
Beta Sitosterol – Helps to reduce cholesterol, treats an enlarged prostate, reduces the swollen prostate, improves urinary retention and eases urination.
Saw Palmetto – Helps to treat the enlarged prostate. It contains antiandrogenic, antiproliferative, and anti-inflammatory properties.
Muira Puama root – Improves male sexual function.
Pygeum Bark – Reduces inflammation and decreases the testosterone levels in the prostate.
Epimedium – Treats male sexual dysfunction, provides support for bones and muscles.
Nettle leaves – Helps to reduce the growth of prostate cells, relieves symptoms of Benign Prostatic Hypertrophy (BPH) and associated urinary problems.
L-Alanine – This is an amino acid which helps to treat benign prostatic hypertrophy (BPH).
L-Glutamic Acid – This is another amino acid required for the proper functioning of the immune system, the gastrointestinal tract, the kidneys, and liver. Helps treat benign prostatic hypertrophy (BPH).
L-Glycine – Helps protect the nervous system and also helps in the treatment of benign prostatic hypertrophy (BPH).
Vitamin B-6 – Takes care of overall prostate health.
Zinc – Helps protect against prostate cancer.
Selenium – Also helps to prevent prostate cancer.
Vitamin D – Improves overall prostate function.
Vitamin E – Acts as a shield against prostate cancer.
Soy Isoflavones – Reduces the swollen prostate and improves urinary retention.
Green Tea – Contains polyphenols which assist in maintaining prostate health.
Quercetin – Acts as a potent antioxidant, anti-inflammatory and anti-tumor agent. Helps to protect against chronic prostatitis, an inflammation of the prostate.
Lycopene – Helps to fight against prostate cancer.
Other ingredients include gelatin, magnesium stearate, and calcium carbonate.
Dosage
A bottle of Research Verified Prosta Relief contains 60 servings. As a dietary supplement, it is recommended to take two capsules a day. A capsule should be taken two times a day before meals with an 8 oz glass of water. It is advisable for pregnant or nursing ladies, children under the age of 18, and individuals with a known medical condition to consult a doctor before using this product.
Price
A bottle of one month's supply costs $48. It is possible to buy this product in bulk which will save you money over the long-term. The different packages include:
A 3 month's supply package which will cost you $98, allowing you to save $111.85.
A 6 month's supply will cost you $142, allowing you to save a total of $277.70.
Guarantee
Research Verified Prosta Relief offers a 365-day money back guarantee in case the customer is displeased with the product . This product is FDA registered and cGMP certified. It complies  with the USP quality standards and contains the highest quality ingredients as suggested by clinical studies. For consumer protection, it is insured by buySAFE and has an A+ quality rating.
Conclusion – Research Verified Prosta Relief
Research Verified Prosta Relief is a classic product that contains the best quality ingredients. The clinical studies show that the product is quite effective to prevent prostate cancer and take care of overall prostate health. The informative website for this product lists the ingredients in detail along with the proper benefits of each one.
Top investigative research brought to you by the experts at Customer Review.