Avocet Avosil Scar Care Ointment Review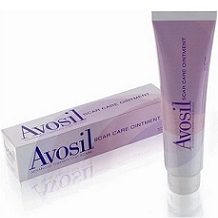 Today we review Avocet Avosil Scar Care Ointment. Formulated with special moisturizers, this ointment will help keep your scars hydrated as it continues to heal. This hydration not only helps the overall appearance of the scar but also stops the pain and itchiness often associated with healing.
Ingredients
Polyethylene glycol ointment
Sodium salicylate
Parabens
BHT
Most scar treatments offer a lot more healing ingredients that help to soften the skin, allowing the scars to heal faster. Nutrients like aloe vera, lavender, and palmarosa all help the skin immensely when healing from a wound.
Dosage
Twice per day, you should apply a ⅛ inch thick layer of this ointment over the scar and the surrounding skin. Once the ointment has fully absorbed into the skin, only then can you put on clothing or apply a bandage to the area. It is not stated how long this ointment needs to be used in order to see the full results.
Possible Side Effects
This product is only meant for external use and should never be applied to open wounds. If you are allergic to aspirin, you need to speak with a healthcare provider before beginning this product. If irritation or rash develops, you should stop using this ointment immediately and contact your primary care physician.
Price
This cream is available in three sizes. Tubes are available with 2 ounces and 4 ounces of cream, which a 12 ounce tub is also available for purchase. The smallest size sells for $36.04, the middle for $66.94, and the largest container sells for $123.59. With even the largest size selling at over $10 per ounce, this is one of the most expensive scar removal treatments on the market. Shipping is an additional $6-$10 depending on the size of your purchase.
Guarantee
Not only does this manufacturer not offer a money back guarantee, their return policy is extremely strict. Refunds will only be granted if you submit a claim of a damaged or defective product within 30 days of your original purchase date. The ointment then needs to be returned unopened and unused, with the original packaging. This means there is no way for customers to trial this product risk free. If you decide to purchase this product and find yourself unhappy with the results, you are then out of luck with no way to receive a refund.
Conclusion of Our Avocet Avosil Scar Care Ointment Review
There are a few things we liked about Avocet Avosil Scar Care Ointment. The dosing instructions are very clear, explaining exactly how much of this lotion to put on each scar. The warnings for this product are also explicitly laid out for customers to see.
Unfortunately, we had some real concerns with this product. The ingredient list is missing some key nutrients often used in skin care products. Next, while there are three sizes of this cream to choose from, they are all very expensive. Lastly, there is no money back guarantee for this product. For these reasons, we cannot recommend this ointment to help you get rid of your scars.
Top investigative research brought to you by the experts at Customer Review.