Organika Professional Line Curcumin Review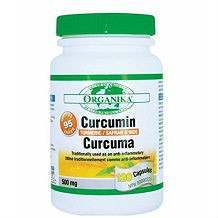 Ancient medicine has been using natural products straight from the earth for centuries. There have been traditional recipes passed down and recently these have become mainstream as supplements. One plant that has become increasingly popular on the market is Turmeric and its essential ingredient – curcumin. Turmeric has been attributed to treating health issues such as; cardiovascular disease, inflammation, skin disorders, immune system disorders, colitis, cholesterol problems, Alzheimer's and even cancer.
For modern day consumers seeking the health benefits of curcumin, supplements offer an easy to take option. One product that is available on the market is Organika Professional Line Curcumin. The manufacturers claim the product to be one of the most potent and pure available, with careful manufacturing protocols and quality sourced ingredients. They boast a team of professionals that develop a significant amount of supplements in the industry and only use 100% certified organic produce. This certification provides customers with peace of mind that they are receiving pure products free of chemicals, pesticides or other nasty additives. The manufacturers have really done well in placing themselves ahead of other supplement companies that use products that are sometimes no use in taking or are full of harmful toxic ingredients.
Ingredients
Brown Rice Flour
Magnesium Stearate
Gelatin
Dosage
The manufacturer recommends that one capsule be taken three times daily with water. It is recommended that customers seek advice from a health care provider before taking any supplement.
Price
The manufactures website does not offer a price for their product, which is highly irregular. Stockists of the product offer it for $15.90, for 120 capsules, which is approximately a one month supply. This is a very reasonable price point for a quality product.
Guarantee
The manufactures do not clearly identify if there is a product satisfaction guarantee provided with the purchase of their product.
This can be risky if you just want to give it a try and see how it fares compared to other supplements available. Therefore it is at the risk of the customer if they purchase Organika Professional Line Curcumin, as they may not receive any sort of refund for monies spent.
Conclusion of Organika Professional Line Curcumin Review
As Organika Professional Line Curcumin has a very reasonable price point, a certified organic title and a highly potent promise, this product is likely a top competitor in the industry. However, the lack of a product satisfaction guarantee is a significant downfall on the manufacturers behalf.
Top investigative research brought to you by the experts at Customer Review.